The PlayStation Showcase's hardware announcements were bad and Sony should feel bad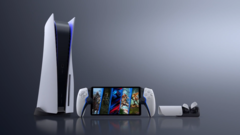 Views, thoughts, and opinions expressed in the text belong solely to the author.
Now that the dust has settled around Sony's PlayStation Showcase let's take a critical look at some of its more questionable announcements. The lack of a Wolverine trailer (and Bloodborne PC) aside, the two pieces of hardware were arguably the most disappointing I've seen in years. As a famous YouTuber would say, they are "a literal waste of sand".
Project Q? More like Project E-waste
I can't help but wonder why Sony decided to allocate time and resources for a device literally nobody asked for. Remote Play is already available on just about every platform and works well on all of them. Perhaps there is more to Project Q than just Remote Play, but what extra features can a streaming box realistically offer?
Knowing Sony, Project Q is locked down tight and may not be useful for anything besides Remote Play or PS Now. Sony's marketing schtick around the handheld is a fully-functional DualSense controller, complete with adaptive triggers and haptic feedback, not nearly enough to justify its existence.
The handheld market has come a long way since the PS Vita. Relatively unknown players like Ayaneo and Onexplayer are making strides, as are established figures like Valve and Asus. A company with Sony's resources should have no trouble developing one from the ground up. Even a 1080p 60 FPS experience would be satisfactory.
A PlayStation 5 Pro is desperately needed
A PlayStation 5 revision (Slim/Pro) should have been announced instead of a battery-powered paperweight. Contrary to what Jim Ryan said about developers "just scratching the surface" with the PlayStation's power, Unreal Engine 4 games show us the limitations of current-gen consoles. And it's not like the situation will improve once Unreal Engine 5 begins entering the mainstream.
In its essence, the PlayStation 5 is a glorified Zen 2 machine with a GeForce RTX 2080 slapped on top. A Pro revision is desperately needed to bring it to speed with last-gen PC hardware. While there have been numerous rumours about it, there might not be a PlayStation 5 Pro this generation. But hey, at least we'll get a detachable disc drive at some point. That's something, right?
One might argue that adept developers will still churn out bangers on seemingly underpowered hardware. Naughty Dog demonstrated that with The Last of Us Part 2, as did Sucker Punch with Ghost of Tsushima. Both games have no business looking that good on a ten-year-old console. However, that is more of the exception than the norm. Plus, the recent barrage of badly-optimized games doesn't help anyone, especially PC gamers.
The PlayStation Earbuds are tone-deaf
Now, let's take a look at the second piece of hardware that got little more than a few seconds of airtime: the PlayStation earbuds. Once again, I can't fathom who asked for it. In my numerous years of gaming, I have yet to come across someone who prefers TWS earbuds over an over-ear solution. No matter how well you design them, earbuds' batteries will die within a few hours, rendering them useless for long sessions.
I wonder if the executives at PlayStation know the WF/WH-1000XM4s exist. But guess what? The PlayStation 5 doesn't natively support Bluetooth audio. Want to use your flagship Sony headphones with your Sony console? Too bad, you'll need a shady third-party Bluetooth dongle that might or might not work. And no, "just plug in your WH-1000XM4/5 into your DualSense via the 3.5 mm adapter" isn't a solution.
Sony claims the PlayStation Earbuds will use a secret sauce connectivity standard for "low latency" audio connectivity. I see no reason why other Sony headphones can't do that with a simple firmware update unless they lack the requisite hardware. The proverbial icing on top of the cake is "smartphone connectivity" being advertised as a feature. Thanks, Sony. Much appreciated.
I've been an avid PC gamer since the age of 8. My passion for gaming eventually pushed me towards general tech, and I got my first writing gig at the age of 19. I have a degree in mechanical engineering and have worked in the manufacturing industry and a few other publications like Wccftech before joining Notebookcheck in November 2019. I cover a variety of topics including smartphones, gaming, and computer hardware.