The OnePlus 7 Pro Almond SKU goes on sale, may gain a new Android Q navigation gesture soon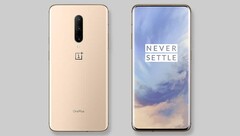 OnePlus has released a new colorway for the 7 Pro. This SKU (Almond) is available in the US or Canada so far. In addition, development leaks indicate that the OEM is preparing the new 'back' gesture, which consists of swiping inward from the side of the screen and is also found in the latest Q betas.
OnePlus originally introduced its new flagship phone, the 7 Pro, in 3 new colors: Nebula Blue, Mirror Gray and Almond. However, it released several SKUs in the first 2 only, holding the latter in reserve - until now. Almond could be said to be what you get if you invented a spectrum of shades with gold at one end and beige at the other, then chose the most neutral point of your resulting palette.
This new colorway is available in an 8GB/256GB RAM/storage conformation, and costs US$699. (The 7 Pro's absolute top end with 12GB of RAM comes in Nebula Blue only). At the time of writing, this new SKU is on sale in the US and Canada. It ships with OxygenOS (OOS) 9, based on Android 9.0 (Pie) out of the box. However, it seems that this phone, along with its blue and gray fellows, will get even more up-to-date soon.
A leak associated with HydrogenOS (H2OS), OOS' Chinese-market counterpart, indicates that a cutting-edge UI feature for Android may make it to the 7 Pro soon. It is called 'side-slip', and replaces the traditional back button with a specific swiping motion. Its presence in a new H2OS beta suggests that it may make it to OOS soon.
This may be a win for those who value having the absolute latest features in Android; it is also found in the betas for the next major system update, Q. However, those who disapprove of this UI's increasing resemblance to that of iOS - which is already arguably apparent and appears to only grow stronger - may not greet the potential new tweak with similar enthusiam.