The Blackberry KEYone's Oreo update is finally around the corner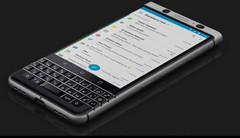 The Blackberry KEYone received a maintenance update prepping it for Android Oreo a few weeks ago, and now a document has been revealed that shows the device penned down to start receiving the Android 8.0 Oreo update on June 28.
Blackberry released the KEYone over a year ago. The device was launched on Android Nougat, and users have been stuck in software limbo since then, with the company failing to send out the Oreo update. Not for much longer, though, it would seem.
According to the source report, Canadian carrier Rogers has the KEYone penned down for an Oreo update rollout starting June 28. That's just two days away. It would surprising if other carriers failed to follow suit over the course of the next few weeks, moreso considering the fact that the device already received a maintenance update preparing it for Oreo two weeks ago.
Of course, while it's always good to see devices being updated, we can't help but feel disappointed that it's taken this long. Android P is only two months away at this point, and the update the KEYone will receive is one that takes it to Android 8.0 Oreo, and not even Android 8.1.
The new KEY2 was released a few weeks ago, and if Blackberry continues to take this stance on updates, one must question the premium price tags that came with the device. The Blackberry Priv received just one major update before being unceremoniously abandoned, and the KEYone is likely to face a similar treatment.