BlackBerry KEY2 shows off dual-camera setup in teaser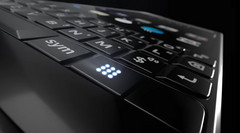 BlackBerry Mobile has released a new teaser clip for the KEY² smartphone. The brief video shows that the device will feature a dual-camera system and reveals a new button on the keyboard that has fuelled speculation in regard to its purpose. Full details about the KEYone's successor are expected to be given at the June 7 launch event in New York.
A short teaser has been posted online by BlackBerry Mobile giving the world a few more glimpses of the upcoming KEY² smartphone. Apart from the fact the device has an overall appealing look to it, two features immediately stand out. The clip confirms the handset will have a dual-camera setup, which would give it a likely advantage over its predecessor in terms of smartphone photography. The second thing to notice is the button on the keyboard with nine dots on it arranged in three rows. There has been speculation that this button could operate as a shortcut key; however, it's likely whatever its true purpose is will be revealed on June 7.
The KEY² smartphone has been designed by TCL Communication under the famous brand BlackBerry Mobile. The device is expected to be powered by a Qualcomm Snapdragon 660 SoC and offer 6 GB RAM and 64 GB storage space. There are reports that the rear dual-camera setup could consist of a 12 MP sensor and an 8 MP sensor. An 8 MP front-facing camera and 3360 mAh battery round up the likely main specifications.