The 2nd-gen Huawei Mate X may support 65W charging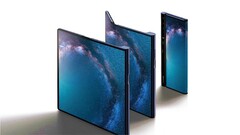 The Huawei Mate X's successor, thought to have the code-name of "Tahiti", may have been certified as a phone in China. The leak in question also shows that the device in question can charge at a top rate of 65 watts (W). This technology may also feature in the P40 series.
Huawei is currently rumored to have a second foldable phone in the works, that goes under the code-name of Tahiti. Now, a device called the TAH-AN00m has been discovered as a new certification with the Chinese regulator 3C. It is a "5G Digital Mobile Phone" that charges at a maximum rate of 65W.
For context, the fastest charging standard made by Huawei at present is the 55W SuperCharge system found in the original Mate X. It is rated to charge this foldable's 4500mAh battery to 85% in half an hour; however, the new power-brick (HW-200200CP1) mentioned in the new 3C listing could out-perform that speed.
This new, possibly flexible device may launch after the Mate X refresh slated for a global debut at MWC 2020. Its new type of charging is also projected to feature in the Huawei P40 series. Furthermore, it is possible that this "Mate X 2" may fold in a different way to the original: there are already signs that 2020 may be the year of the next-gen clamshell, after all.