Huawei Mate Xs: a refreshed foldable destined for an upgraded hinge, screen and MWC 2020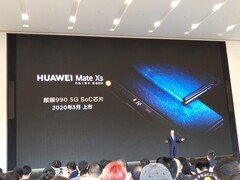 Huawei's CEO, Yu Chengdong, has revealed that the upcoming Mate Xs device will have a more robust display compared to the original foldable phone. It is also slated to have a new hinge with an improved design. This Kirin 990 device will also be showcased at next year's Mobile World Congress.
Huawei was one of a very small handful of OEMs to launch its first foldable phone this year. However, thanks to its US trade-war woes, the Mate X has not ventured far outside its native China to date. Then again, the company has promised an upcoming refresh for this phone, the Mate Xs. Powered by the Kirin 990 rather than the 980 of its immediate predecessor, it seems it has a better chance at an international release.
The same OEM's CEO made remarks to this effect while speaking to French reporters recently. The executive said that Huawei hopes to launch a foldable (most likely the Xs) in Europe by the first quarter of 2020. Yu also mentioned that the newer version of this device will come with a more durable screen and an improved hinge design.
Nevertheless, it will retain the inverted-book form factor of the original Mate X. This newer version of the folding phablet is also now slated to be on show at MWC 2020. Therefore, despite an indication that Huawei will jump on the clearly emerging "updated clamshell" bandwagon, it seems this company will not do so until next year at the earliest.