The 27-inch iMac 2019's RAM may be upgraded to 128GB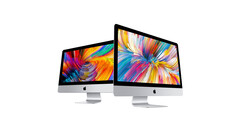 Apple puts the maximum RAM of its new 27-inch iMac at 64GB. However, the memory kit-maker OWC has confirmed that the PC is indeed compatible with twice this value. Therefore, it now sells upgrade kits for this PC that may allow a user to add 120GB of RAM to an iMac base model.
Working For Notebookcheck
Are you a techie who knows how to write? Then join our Team! Especially English native speakers welcome!
Currently wanted:
News and Editorial Editor - Details here

Apple released a new line of iMacs this year minimal fanfare. These all-in-ones closely resemble their predecessors, although their internals have seen an appreciable upgrade at all tiers and SKUs. The OEM maintains that the highest-spec'd variant of these tops out at 64GB in terms of RAM. However, a memory-kit manufacturer begs to differ.
OWC had pledged to investigate the possibility that this maximum RAM value could in fact be doubled in the highest-end, 27-inch 2019 iMac. Now, it has confirmed that this has in fact worked out; apparently, each of the 4 accessible slots in this machine is compatible with RAM sticksof up to32GB.
Therefore, the company now offers a MaxRAM Kit that delivers this possibility (i.e. 4x32GB). However, there is a sizeable catch: it is priced at US$1,099.99. Those who could content themselves with less RAM may be interested in OWC's 96GB (2x32GB + 2x16GB) or 64GB (2X32GB) kits. They are priced at $749.99 and $579.99 respectively.
This may seem like a budget-busting upgrade, especially on top of the price that even a basic (8GB) iMac 2019 commands. However, OWC asserts that its prices (albeit mainly for kits of 64GB or less) entail decent discounts compared to what Apple asks for factory upgrades.