The Apple iMac lineup received an upgrade early last year, but the design was more or less similar to almost every other iMac before it. However, that might change if a recent Apple patent is anything to go by. The patent published by the US Patent and Trademark Office (USPTO) shows Apple's vision for a future iMac made completely out of a continuous glass body.
According to the patent, the upper portion of the glass contains an embedded OLED display while the curved base houses a raised keyboard for easy typing and other input devices such as a trackpad on either side. There is also an alternative design showing the keyboard to be separable. The keyboard can be extended during use and docked when not. In the patent, Apple notes that the glass housing may ultimately be opaque or translucent even though it is primarily made of glass. The back of the device houses the ports and the speaker, possibly doubling-up as a home automation system. Given the thinness of the display, it is very well possible that the base would house all the necessary hardware components.
An interesting design being proposed in the patent is the MacBook desktop accessory wherein it would be possible to dock a MacBook's keyboard into the curved glass display to allow for a larger area for viewing and working. This also hints at the possibility of the MacBook getting an overhaul to match the aesthetics of the iMac dock.
As is the case with patents, most are conceptual and not all design ideas end up in the final product. Apple may use this design or trash it altogether depending on various other factors. While we don't expect the very next iMac upgrade to be glassy, it is likely that we aren't too far away from such a device either.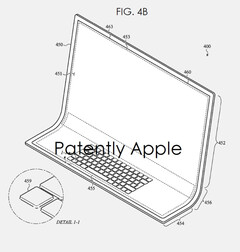 Though a cell and molecular biologist by training, I have been drawn towards computers from a very young age ever since I got my first PC in 1998. My passion for technology grew quite exponentially with the times, and it has been an incredible experience from being a much solicited source for tech advice and troubleshooting among family and friends to joining Notebookcheck in 2017 as a professional tech journalist. Now, I am a Lead Editor at Notebookcheck covering news and reviews encompassing a wide gamut of the technology landscape for Indian and global audiences. When I am not hunting for the next big story or taking complex measurements for reviews, you can find me unwinding to a nice read, listening to some soulful music, or trying out a new game.