Sony puts a personal, wearable air-conditioner up for crowdfunding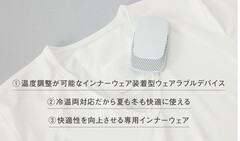 Sony has invented a product called the Reon Pocket. It is a device that can change a user's personal temperature (or their perception of it, at least) while worn on the body. This unusual product is currently a part of the OEM's crowdfunded First Flight project, by which its chances of manufacture is determined by its ability to attract backers.
In this summer of record-breaking heatwaves, many tech enthusiasts may wonder that their favorite subject has not resulted in effective means of cooling down automatically in one's immediate personal space yet. Sony is one company that claims to have made such a breakthrough. It claims that its Reon Pocket solves many "problems" people have while working, traveling or simply moving around in hot summer weather.
Despite its name, the Reon Pocket is intended to go in a sort of pouch in a specially-designed compatible T-shirt, where it would be near the base of the user's skull. When activated, it can then apparently get up to 13 degrees Celsius colder, thus making the wearer more comfortable.
Sony claims that the Reon Pocket is also good for the winter, as it can also heat up to the tune of 8.3 degrees Celsius. It appparently does so by harnessing the Peltier effect: a fluctuation in temperature at a junction in a hybrid material in response to exposure to an electric current. The resulting personal-thermostat effect can be controlled via a smartphone app.
However regrettably, the Reon Pocket is currently only offered to consumers in Japan. They have been invited to access their new form of personal environment control by backing the product's crowdfunder via Sony's First Flight project.
This campaign, which has exceeded its 66000000 yen (about US$614,532) goal by 104% at present, asks 12,760 yen (US$118.84) for a Reon Pocket with a single shirt; alternatively, a few thousands of yen more adds more shirts or different product options. Then again, all of these backing options are now sold out (correct at time of writing). Let's hope all those backers get their wearable air-conditioners soon.
Working For Notebookcheck
Are you a techie who knows how to write? Then join our Team! Especially English native speakers welcome!
Currently wanted:
News and Editorial Editor - Details here