PrinCube: The world's smallest mobile colour printer has raised over US$3.2 million in crowdfunding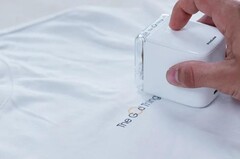 TheGodThings claims that the PrinCube is the smallest mobile colour printer on the market. Better still, the device can print on all surfaces and fits in the palm of your hand. The PrinCube costs US$109 and ships next month.
TheGodThings' PrinCube has proven immensely popular on crowdfunding website Indiegogo, with the palm-sized printer garnering over US$3.2 million in funding. While most modern printers contain a printhead, paper feeder and a mechanism for moving the former over a sheet of paper, the PrinCube has just the printhead and puts you in charge of moving it.
The device measures just 72 x 51 x 68 mm and weighs 160 g with a print cartridge installed, which should make it light and small enough for most people to hold with one-hand. The PrinCube contains an optical sensor for detecting motion and can print in up to 1,200 DPI on practically any surface, including uneven ones.
The PrinCube can also print for up to 1.3 metres on a single line or 3 metres across multiple lines, while TheGodThings claims that its US$29 cartridge will last for up to 415 sheets of A4. The company states that the PrinCube should last up to 6 hours of continuous use between charges or a year on standby. The PrinCube communicates with a smartphone or laptop over Wi-Fi.
The Indiegogo crowdfunding campaign has now ended, but the PrinCube can still be bought at early-bird prices starting at US$109. The printer has already entered mass-production, with TheGodThings estimating to ship to backers next month.