Meet the Sony SEL35F18F, an FE 35 mm f/1.8 lens that costs US$750 (£630)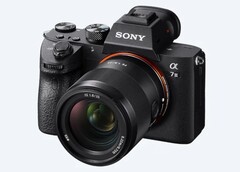 After much speculation, Sony has announced a 35 mm f/1.8 lens under its FE series. The lens incorporates 11 elements, one being aspherical to suppress aberrations and maintain image resolution into the corners of a shot. The SEL35F18F weighs just 280 g (9.9 oz) too. The FE 35 mm f/1.8 (SEL35F18F) will be available to order in August for US$750 (£630).
The Sony FE 35 mm f/1.8 is here following seemingly endless misinformation. Carrying the model number SEL35F18F, the lens integrates 11 elements including 1 aspherical element, which Sony claims minimises "optical aberration and achieve high resolution right out to the image periphery". The SEL35F18F has an equivalent focal length of 52.5 mm along with a minimum focus distance of 22 cm (0.73 ft). Likewise, it also has a maximum magnification ratio of 0.24 X and a filter diameter of 55 mm. Moreover, Sony has included a 9-blade circular aperture mechanism to achieve what it calls "smooth bokeh" effects.
All of this comes in a 65.6 mm (2 5/8-inch) x 73 mm (2 7/8-inch) housing that weighs just 280 g (9.9 oz). The lens is also dust and moisture-resistant, although it does not carry any IP certification. Sony even points out that the SEL35F18F is not 100% dust- and moisture-proof too.
The SEL35F18F has a linear-motor autofocus (AF) drive system that Sony promises will not only work precisely but also quickly and quietly. The SEL35F18F compatibility information page is currently empty, but the product listing refers to it as being a full-frame lens that is compatible with APS-C bodies. TechRadar points out that the former includes Sony Alpha bodies, including the A7 III and A7R III. The Sony FE 35 mm f/1.8 (SEL35F18F) will start shipping in August for US$750 or £630 in the UK.