Samsung's latest, "5G-optimized" version of OLED for phones is refined in terms of blue light and power consumption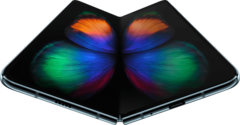 Samsung has launched its latest high-end smartphone display panel. So far, it has been tested by the eye-safety authority SGS and validation specialists UL, and found to have reduced blue-light emissions and energy-consumption values respectively compared to its predecessor. Therefore, the OEM asserts that this new product is ready to take the 5G era on.
Samsung has asserted that its latest form of OLED for smartphone displays is ready for the rise of 5G over the next few years. This is because it has been certified as improved in terms of blue light emissions and energy-efficiency by the electronics assessment authorities Société Générale de Surveillance (SGS) and Underwriters Laboratories (UL). These comparisons may have been made with the Dynamic AMOLED technology currently found in premium devices such as the Galaxy S20 series.
SGS has attested that this new Samsung panel allows only about 6.5% of its radiation to emerge as blue light. This is a significant reduction compared to its predecessor, which emitted about 7.5% in the same terms. Similarly, UL has reported that the new OLED generation uses 15% less energy compared to the old.
These safety experts also found that the new panel type uses an average of 1.3 watts (W), compared to an average of 1.5W in its predecessor. The lab arrived at these values following testing that incorporated a range of everyday activities including content-consumption, phone photography and internet use.