Eye health in the electronic age
Our vision is perhaps the most valuable tool at our disposal. While we learn about the world through its various sounds, smells, tastes, and textures, it is our sight that feeds the most information to our brains. Because of this, protecting our vision is one of the most important things we can do for our overall health. That's easier said than done in the modern world.
Our eyes are constantly fed information through screens. Most of us have jobs that require us to look at a computer display of some kind for several hours a day. After work, we head home and stare at screens throughout the evening and well into the night. It's no wonder, then, that many people complain of eye strain, blurred vision, or headaches after a long day of work. These symptoms and others, collectively known as computer vision syndrome (CVS), may affect as many as 90% of people who use a computer monitor, tablet, or other electronic display during the workday.
So what can we do about CVS? There's no escaping the fact that many jobs require computers and, thus, require staring at a screen. In this article, we will discuss a few things you can do to reduce eye strain and alleviate some symptoms of CVS. We will also offer a list of laptop features that may adversely affect our eyes and what facets of notebooks may lighten the ocular load. Finally, we will offer a short list of some recommended laptops with high-quality screens that have some of these vision-saving features.

Steps you can take to alleviate CVS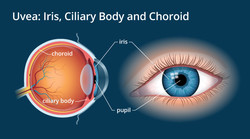 The good news is that there are several steps you can take to minimize or outright prevent symptoms of CVS. Our eyes work like biological cameras; they are constantly focusing on an image, taking in light, and transmitting visual data to our brain for interpretation. By understanding how our eyes look at electronic displays, we can better control the stress placed upon them. The following list is by no means exhaustive, but these tips should help you if you consistently suffer from headaches, blurry vision, eye strain, or other common problems associated with CVS. Best of all, these are simple solutions that shouldn't require you to buy new equipment or change your working situation.
Refocus your eyes periodically. Perhaps the best way to protect your vision is to give your eyes a break. If you spend an extended period of time in front of a computer monitor or other display, look away from the screen every 20-30 minutes. Pick out a distant object or spot on a faraway wall and focus on it for about 30 seconds. This refocusing removes the immediate strain placed on your eyes, and focusing on a distant object will help relax the muscles that control your eye.
Blink often. Blinking coats our eyes with tears and helps clear out any dust or particles that have found their way past our eyelashes. While blinking is an automatic reflex, some studies show that blinking rate is significantly reduced when we actively process information, such as when we are working at a computer monitor. This can lead to our eyes feeling dried out and may damage them over time. Like above, take a break every 20-30 minutes and intentionally blink your eyes very slowly 10 or more times. This will spread new tears over your eyes. You may also want to purchase lubricating eye drops if you suffer from very dry eyes.
Adjust your lighting. Some lighting situations can actively damage our eyes, particularly bright environments. There's a reason why we squint when we step outdoors on a sunny day; our pupils contract, which requires some muscles in our eyes to stay flexed. If you can, turn down the lights in your office and partially block any ambient light coming in from outdoors. Turning off overhead lights or fluorescent bulbs can also help. Incandescent and halogen bulbs are easier on our eyes, and placing them lower down to offer indirect light can help reduce strain.
Adjust your display's settings. Most modern LCD monitors and laptop displays allow the user to edit some settings. Lowering the brightness of your computer's display will reduce ocular stress, similar to turning down ambient lighting. There is a threshold, though; if the computer screen is too dim, it can actually cause worse eye strain. Find a good sweet spot by incrementally stepping down the display's brightness until your eyes aren't squinting or straining too much to read text or view images. You can also download software to filter out blue light. Blue light has a shorter wavelength than red light and thus can cause greater eye strain, particularly if viewed at night. Blue-light filtering software shifts the color gradient of your computer's display toward the red end of the light spectrum, increasing the wavelength of emitted light and reducing stress. A good app for this is f.lux, which can be set to automatically shift your display throughout the day. F.lux is free for personal use and is available for Windows, Mac, Linux, Android, and iOS (jailbreak required).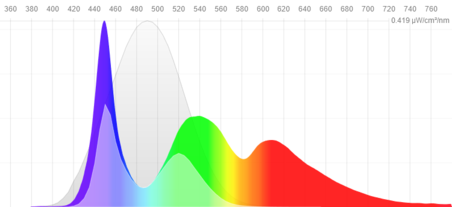 Laptop specifications to look out for
In addition to the tips listed above, there are some laptop-specific factors that can directly affect our vision. Laptop screens vary widely from model to model, and there is no one perfect laptop screen when it comes to eye health. Still, here are a few things to keep in mind when you purchase your next laptop.

Matte screens are easier on the eyes. Perhaps the most noticeable facet of a laptop's screen is the finish across the panel. Laptop displays have either a glossy or matte finish to them. Glossy panels allow more light to pass through from the LCD backlight and are typically brighter and more color accurate. However, glossy displays have a major weakness: reflections. A glossy finish will typically show reflections at lower brightness levels, which can distract our eyes and cause them to constantly shift focus, resulting in increased fatigue. Matte finishes, on the other hand, are made specifically to cut reflections. Matte displays typically show no reflections, making them highly usable in almost any lighting condition (provided the backlight is bright enough). Matte screens do sacrifice some color accuracy and brightness, but most are more than good enough for users that don't routinely work with color.

Higher resolutions make everything sharper. Most modern laptops come with either a 1366x768 or 1920x1080 resolution screen, which is acceptable for most work. However, users that suffer from eye fatigue may want to consider getting a higher resolution display. A higher resolution means a higher pixel density, which can make text and images look much sharper. While a high-resolution screen will make icons and other UI elements smaller at the display's native resolution, both Windows 10 and Mac OS X have excellent scaling options. Text on a 4K screen set to 200% scaling will look much crisper than text on a 1080p screen at native resolution.
Screen size affects pixel density. Related to point #2 is screen size. Obviously, a smaller laptop screen will subsequently be harder to see from a normal viewing distance than a larger laptop screen. That being said, a larger laptop screen will have a smaller pixel density than a smaller screen of the same resolution. For reference, a 15.6-inch display with a resolution of 1920x1080 has a pixel density of 141 pixels per inch (PPI). Choose a laptop with a screen large enough for comfortable viewing from your desk chair. A larger screen would need a higher resolution to match this pixel density. It should be noted that Apple's "Retina Display" moniker is a classification used by the company to describe a pixel density high enough such that individual pixels are not visible at a normal viewing distance. The iPhone 4 had the first "Retina Display" with a PPI of 326. Apple's Retina MacBook Pros typically have a lower pixel density (~220 PPI) but are viewed from farther away than a smartphone.

Backlight brightness matters. While it's important to control the intensity of light coming out of a laptop screen, making sure that the LCD backlight is bright enough to remain visible is equally as important. A screen with too dim a backlight can be hard to see in some lighting conditions, causing our eyes to strain to view the display. A backlight that can climb to 300-350 nits should be sufficient for most environments.
Poor contrast muddies up the display. Also worth considering is the contrast ratio and black levels of a display. Poor contrast can result in blurry or muddy images with ill-defined boundaries. This can subsequently force our eyes to constantly refocus in order to make sense of the boundaries of an on-screen picture or text. A contrast ratio of 1000:1 or higher will be adequate for most users.
Check the underlying display technology. The manufacturing process behind a display can heavily impact its quality. Twisted nematic (TN) panels are typically cheaper and offer faster response times but suffer from poor color accuracy, low contrast, and off-angle color shift/inversion. Panels that use in-plane switching (IPS) remedy these issues at the cost of slower response times. IPS panels are commonly found in most TVs and smartphones and are widely available in mid-range and high-end laptops. There are other display technologies, such as IGZO and OLED (Organic LED) that have their own advantages and disadvantages, but these are rare in the laptop world. For example, Aorus is one of the only laptop manufacturers that regularly uses IGZO displays, and one of the only laptops with an OLED display is the now-retired 2017 Alienware 13. It should be noted that IPS displays are significantly more expensive than TN panels, but the benefits may be worth the extra cost.
PWM can be a headache. Many laptops rely on pulse-width modulation to dim the LCD backlight. We have written a detailed article on the issue, so suffice it to say that higher PWM causes less strain on the eyes. Laptops with low PWM (<500 Hz) can cause eye fatigue, headaches, and other adverse symptoms in some users. We measure the PWM (or lack thereof) of almost every device that crosses our test bench, so be sure to check a specific laptop review before buying to see if PWM is problematic.
Suggested laptops
Now that we know what to look for in a laptop, here is a list of some suggested devices that meet most of the criteria listed above. Again, there is not one "perfect" laptop when it comes to eye health. Still, the following devices come close and should help alleviate eye strain. Remember, the best way to protect your eyes is to take action yourself.
HP EliteBook 840 G5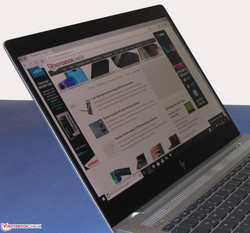 The laptop display that ticks the most boxes perhaps belongs to the 14-inch HP EliteBook 840 G5. The FHD panel is reasonably pixel-dense (157 PPI), has a good contrast ratio (1170:1), and is fairly color-accurate. What really sets the EliteBook 840 G5 apart is its backlight, which is one of (if not the) brightest on the market right now. The screen shines at an insane 630 nits on average, and the backlight is very evenly distributed (93%). In addition, the matte finish across the panel eliminates reflections and allows for use in all but the brightest conditions. While the 14-inch display may be too small for comfortable viewing from a distance, the EliteBook 840 G5 offers one of the best displays for eye health on the market today.

Dell XPS 15 9570 (FHD)
The Dell XPS 15 has long been touted as the Windows alternative to Apple's MacBook Pro line for many reasons, but the display is often one of them. While Dell offers an alternative SKU of the XPS 15 9570, its glossy panel readily shows reflections and is thus not as conducive to eye health as its FHD matte sibling. While PPI could be higher on the FHD panel, the screen is pixel dense enough for most users. What makes the FHD XPS 15 9570 a good choice is its bright and relatively even backlight, its excellent contrast ratio, and matte finish. PWM is high enough that it will not bother most users, although some very sensitive eyes may be affected. Despite these small compromises, the FHD XPS 9570 is perhaps the best balanced display when it comes to eye health.

Lenovo ThinkPad P71 (4K)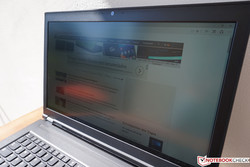 For those that want a larger screen, it's hard to beat the 4K Lenovo ThinkPad P71. The 17.3-inch display is large enough to be easily viewed from a normal working distance, and the 4K resolution packs 255 pixels into every square inch. The 4K P71 offers a good contrast ratio (1155:1), good viewing angles, great color accuracy, and a matte finish. Its main weakness lies in the display backlight, which is somewhat dim (~330 nits) and uneven, making outdoor use more difficult than with the EliteBook 840 G5 or the XPS 15. The P71 is perhaps the best large display and one of the best for eye health.

Apple MacBook Pro 15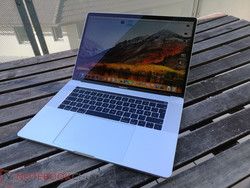 There's a reason why Apple's MacBook Pro devices are often praised for their displays. The panel on the MacBook Pro 15, in particular, is one of the brightest screens in the industry (~520 nits). The pixel-dense (~220 PPI), color-accurate screen has an excellent contrast ratio (1333:1). The device's "Retina" display can be set to a wide variety of brightness levels for almost any lighting situation and has almost imperceptible PWM (>20,000 Hz). The one flaw in the display is its glossy finish. While the backlight gets bright enough to help reduce reflections in most lighting conditions, bright days outdoors turn the screen into a mirror, which can be highly distracting and fatiguing. If you rarely or never work outdoors or under bright lights, though, the MacBook Pro 15 should offer easy viewing.

Conclusion
Our eyes are one of our greatest resources, and keeping them healthy is important. As our lives focus more and more on electronic displays, the task of protecting our vision becomes increasingly difficult. Still, there are some laptop displays that are noticeably easier on the eyes than others. That being said, the most important thing to remember when it comes to keeping your eyes healthy is to take action yourself. Look away from your screen periodically and give your eyes a rest. This is the best way to ensure your eyes keeping looking good (pun intended) for years to come.

I've been a computer geek my entire life. After graduating college with a degree in Mathematics, I worked in finance and banking a few years before taking a job as a database administrator. I started working with Notebookcheck in October of 2016 and have enjoyed writing news and reviews. I've also written for other outlets including UltrabookReview and GeeksWorldWide, focusing on consumer guidance and video gaming. My areas of interest include the business side of technology, retro gaming, Linux, and innovative gadgets. When I'm not writing on electronics or tinkering with a device, I'm either outside with my family, enjoying a decade-old video game, or playing drums or piano.