Samsung could release a foldable gaming phone soon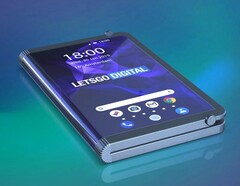 Samsung has been pushing for foldable devices in the past year, but it looks like the company is also considering the gaming handheld market. This latest patent is consistent with what was revealed about the Flex display in late 2018. What is interesting about this patent is the lower edge of the device that folds upwards to reveal gaming buttons like a directional pad and six buttons.
If 2019 is expected to be the year of foldable phones and 5G devices, 2018 certainly was the year of gaming phones. Xiaomi's Black Shark and ZTE's Nubia Red Maigc Mars integrated overclocked Snapdragon 845 SoC and still are among the fastest smartphones around, even though Snapdragon 855 devices are right around the corner. As one of the pioneers in the folding phone market, Samsung might consider introducing a foldable gaming phone later this year, as suggested by a recently published patent.

The guys over at Let's Go Digital went ahead and made some renders of Samsung's foldable gaming phone based on the patent schematics, and the device certainly looks intriguing. The unfolded state reminds of a smaller tablet with 1:1 screen ratio. The bottom edge hides dedicated gaming keys such as a direction pad plus six buttons, and this one can fold upwards whenever needed. As far as the folding mechanism is concerned, the special hinge looks to be consistent with previous Samsung patents.

As always, the possibilities of seeing this exact model released for consumers are on the low side, but Samsung will certainly consider adding such a device to its portfolio, in order to have the edge over all the Chinese phone makers that are willing to saturate the market with their versions.