Rumored pop-up camera for the Samsung Galaxy A90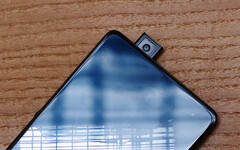 Ice universe has been stating an opinion over the rumored Samsung Galaxy A90 smartphone, summing it up in a single word: "perfect". It seems the renowned leaker was talking about the device's screen and the supposed use of a pop-up camera to solve the notch/punch-hole quandary. Little is known about the purported upper midrange device as of yet.
A few details about the Samsung Galaxy A90 have started appearing, with the inclusion of a possible pop-up camera solution being the latest detail. Ice universe has been tweeting about the "perfect" screen the smartphone will have, because there will be no notch or punch-hole ruining the all-screen potential.
It did appear for a while that the pop-up camera answer to the selfie camera had basically disappeared, regardless of Energizer's hopes for a revival. But Samsung has certainly not been shying away from innovation lately, as shown by the flood of Galaxy S10 rumors, and the company has proven its willingness for hardware experimentation with products like the Samsung Galaxy A8s. That smartphone was the first Samsung device to feature the Infinity-O display, and it was also the first Galaxy phone to dismiss the popular 3.5 mm port.
So along with other recent rumors, a foggy picture of the reported Samsung Galaxy A90 has started to emerge. Joining the novel pop-up camera, there will be 128 GB of storage and possible 6 and 8 GB RAM model variants. The device is expected to come in black, silver, and gold, and it will likely have a rear-facing triple or even quad camera setup. Regardless of these potential specifications, it would be very interesting to see how and if Samsung implements a pop-up camera in the Galaxy A90 smartphone.