Our first GeForce MX250 benchmarks are in and results are slower than some MX150 laptops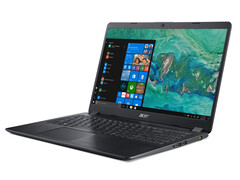 Different name, same game. Laptops equipped with the GeForce MX250 are now beginning to ship to succeed the last generation MX150. However, you're better off with an MX150 laptop instead if performance-per-dollar is a major factor. Our preliminary tests show a 3 to 10 percent boost in performance on average.
We knew from the start that the Nvidia GeForce MX2xx series would be simple rebrands of the existing MX1xx Pascal series. Now that the first laptops with MX250 GPUs are out in the wild, we're able to test exactly how much faster the MX250 can be when compared to the popular MX150.
Long story short, the results are unsurprising if not disappointing. Our first in-house MX250 laptop returned a 3DMark 11 Graphics score of just 4655 points compared to 4219 points from an average MX150 laptop. This represents a raw performance boost of just 10.3 percent.
Worse yet, the performance delta appears to shrink when running titles at native 1080p or with DX12 enabled. Our MX250 laptop returns Fire Strike and Time Spy Graphics scores of just 3455 and 1050 points, respectively, to be within 3 percent of an average MX150.
Since the margins are so narrow, certain existing MX150 laptops may even perform faster than the MX250. The Razer Blade Stealth, for example, outscores our MX250 laptop by 5 to 10 percent when running the same 3DMark benchmarks.
Keep in mind that our comparisons here reflect only the Acer Aspire 5 A515-52G-721H with MX250 graphics. Performance is expected to vary between laptops equipped with the same MX250 GPU much like what we observed on most MX150 laptops. We'll have a clearer picture of the MX250 once we sample more laptops in the coming weeks to months.
A Max-Q version of the MX250 exists as well for even slower performance than what we've recorded here.