Nokia could be expanding operations to the US soon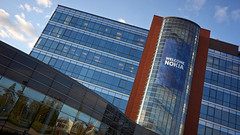 HMD may be set to open up shop in the US, with the Finnish OEM said to be sending out ads for a number of job positions based in the US. This move may mean we get to see more of the company's high-value devices in the US soon.
HMD released its first device over a year ago at the start of 2017. The company has grown in leaps in bounds since then, growing its market shares in various domestic markets to impressive extents. In spite of all this growth, HMD has yet to fully make a move into the US smartphone market. Until now, that is, as new word claims the Finnish OEM may finally be set to open up shop in the land of the free.
According to the source report, HMD has listed job openings on its LinkedIn page for the positions of Product Lead, E-Commerce Lead, and Technical Account Manager, all of which are positions based in the US.
HMD's portfolio of devices has grown to include over a dozen offerings but, of those, only a select few have made the way over to the US—including the Nokia 6 and Nokia 6.1. All HMD devices sold in the US have also come unlocked, which isn't optimal for the US smartphone market. Opening a base of operations in the US is sure to allow the Finnish company expand its revenue in the world's third-largest smartphone market, and bring it one step closer to being listed amongst the biggest wolves in the pack.