HMD executive confirms global launch of the new Nokia X6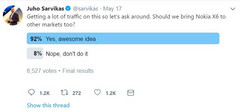 Chief Product Officer at HMD, Juho Sarvikas, has confirmed that the Nokia X6 will be launched for the global market soon. The device was released in China last week, and is likely to be sold as an Android One device when it makes its way outside the country—whenever that is.
After ages of hype and fake touted launch dates, HMD finally released the Nokia X6 last week. Launched in Beijing, China, the device is currently exclusive to that region—like most HMD devices are at first—but that may not hold true for much longer.
Company Chief Product Officer Juho Sarvikas organized a poll on Twitter asking if fans wanted the Nokia X6 to make its way around the globe. Results were affirmative, with 92% of over 8,000 voters agreeing that the device should be launched globally. Sarvikas' well-memed response was gleeful, implying that the X6 would be launched for the global market sometime in the future.
Of course, it's unlikely HMD never planned to sell the X6 outside China. The company has seen its market share grow in markets like the UK, Russia, and Vietnam, so it makes sense that the X6, an extremely attractive mid-range offering, would be sold globally. There's also the fact that, till date, only the Nokia 7 has remained a China exclusive.
Do note that a global launch does not mean the X6 will be sold in the US. Only a select few Nokia devices have made their way into the US, so this will likely not be any different. There's always the option of importation, of course.