New render suggests upcoming Nokia phone with a crazy number of rear cameras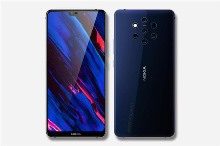 A render posted on antutu.com shows a phone with Nokia branding and a total of 7 components arranged in a multi-camera rear-panel layout. Not all of these apparent parts seem to be cameras, but some may act as a flash or other image-capturing module. These rumors may stem from others concerning the Huawei Mate 20 and its triple-camera design.
A report on the website antutu.com has posted a set of images showing a phone unlike any seen before. The device, which has Nokia branding, has 7 apparently camera-related modules set in the upper half of its rear panel. Judging from the render, 5 of them are cameras of similar shape and size, arranged in a symmetrical pattern with three of them in a vertical line and the other two in a line perpendicular to it.
The other two consistent of a module that appears to be a flash, and another that could be a camera of a different type to the other five. They are found just above the horizontal line of two cameras to complete the 7-module layout. Otherwise, the render shows a navy back panel, which aligns with a color in which the Nokia 8 was available. The purported leak also shows a front panel with a high display-to-body ratio, a relatively restrained notch and a narrow chin (again, branded Nokia).
This leak may seem preposterous, just from the rear camera configuration alone. However, it has been accompanied by at least one YouTube video showing other shots (possibly also renders) of the same phone, this time with the word 'Zeiss' shown within the camera layout. The video also includes the conjecture that the phone in question is called the Nokia 9. Therefore, it appears that the HMD Global brand just may have upcoming models such as the Huawei Mate 20 in their sights. This is due to other rumors that the Mate 20 has a ground-breaking 3-camera layout to make it unique. However, time will tell if phones with something besides dual shooters are really on their way.