New LG V60 ThinQ leak surfaces amidst rumors of the LG G9 ThinQ being cancelled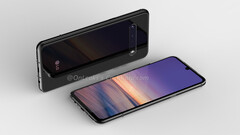 LG is billed to launch the V60 ThinQ at MWC later this month. Details of the device have now leaked, with major takeaways including the presence of headphone jack, a quad-rear camera setup, and a huge 5000 mAh battery. Reports also claim that the South Korean company could be set to kill its G-series line, in an attempt to focus on the V-series.
Leaks on LG's upcoming phones have been few and far between. Weeks ago, it was revealed that the company planned to unveil the V60 ThinQ at MWC. Two leaked promotional pictures of the V60 ThinQ have now revealed a few major details of the upcoming flagship.
The V60 ThinQ is depicted with a quad-rear camera setup. The V40 and V50 already had tri-camera systems, so adding one more is the local progression. The V40 featured a main-telephoto-wide setup, though, so the extra lens is likely a ToF or macro sensor.
Rear cameras aren't the only thing the V60 ThinQ will feature four of, however. The phone will also sport four microphones. LG prides itself on the content-creating abilities of its V-series, and will build on that by debuting an elaborate mic setup on the phone. Great for video and audio recording, although LG's current phones are already class-leading in that aspect.
Speaking of which, the V60 ThinQ will retain the 3.5mm headphone jack. Samsung removed the port from the Galaxy Note 10 phones, and the S20 phones will continue that trend. This makes LG one of the last few OEMs to keep the headphone jack on its premium offerings, and audiophiles around the world will likely be thankful for that.
Going by reports, the V60 ThinQ will have a display in the region of 6.7". That, coupled with 5G support, means increased battery draw. LG, thankfully, will offset that by equipping the phone with a 5000 mAh battery. Hopefully, the company also adopts a faster charging technology, as 18 W just isn't fast enough for a battery of that size.
It's rather interesting that this new V60 leak looks exactly like the G9 ThinQ looks from last month. A leaker back then actually claimed that LG was set to merge its V and G lineups, with the V-series offering 5G, and the G-series sticking with 4G.
New information points towards there being some truth in that. Instead of merging both lineups, though, LG could completely ditch the G-series. That's supported by the fact that there has been no news of LG planning to launch the G9 ThinQ at MWC—its traditional launch period. The LG G9 ThinQ may be dead, or postponed. Time will tell.