The LG V60 ThinQ may have shown up on Geekbench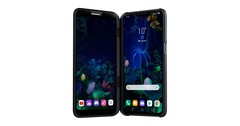 LG may launch a successor for its flagship phablet, the V50 ThinQ, soon. A device with a model number that might conform to this device has appeared on the Geekbench 5 database. It has the Snapdragon 865 and runs Android 10, and has a rather standard 8GB of RAM.
LG is thought to update its current large-screen flagship soon. It is likely to be called the V60, accompanied by its ubiquitous ThinQ branding to denote the OEM's consumer AI solution, of course. This device may have leaked onto a benchmarking site, hinting at some of its specs in the process.
The Geekbench 5 entry in question is for an LGE LM-V600N, which matches the company's model-number convention closely: for example, the V50 ThinQ is the LGE LM-V500N, whereas the G8 ThinQ is the LGE LM-G810. Accordingly, the putative 2020 equivalent runs an up-to-date OS, Android 10.
It is also powered by a chipset with properties and identifiers that match those found in Geekbench listings for the Xiaomi Mi 10 Pro and Samsung Galaxy S20, thus indicating that it is the Snapdragon 865 processor. It also has 8GB of RAM. However, the "V60 ThinQ" results page does not show quite the scores as most of its apparent flagship counterparts.