The LG G9 ThinQ may now be dead with LG touted to kill off the series in favor of a new sub-premium phone; 4000 mAh, 6.7" display, sub-$800 price tag, and a Snapdragon 765G?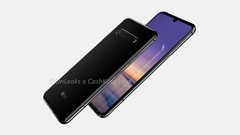 Last week, there were reports claiming that LG would move the LG G9 ThinQ downmarket by pairing it with a Snapdragon 765G. Apparently, though, those reports may have been misguided. New information claims the Snapdragon 765G-powered phone won't be called the G9 ThinQ at all, with LG opting to kill off its original LG G-series entirely.
Apparently, this move is due to the suggestions of Lee Yeon-mo, LG's Head of MC Business Division. The company is expected to kill off the LG G-series completely, and replace it with a new sub-premium lineup. The first phone in the series will be powered by a Snapdragon 700-series SoC, likely the Snapdragon 765G. The device is said to have garnered praise from privy industry insiders.
The new phone is touted to sport a dual screen, and will ditch the LG G-series' heritage of a smaller footprint in favor of a bigger display in the region of 6.7" to 6.9". That will come as awful news to lovers of smaller-sized phones, as the LG G lineup was one of the few remaining options for relatively small premium phones. The phone is expected to sport four cameras in total, with the main rear camera being a 48 MP sensor. A 4000 mAh battery is also expected.
The new phone by LG expected to be priced below 1 million won (US$825) but that goes without saying, and exactly how much below that figure the phone will be priced at is the real question.