NVIDIA RTX 2080 Ti Cyperpunk 2077 Edition GPUs are fetching crazy amounts of money online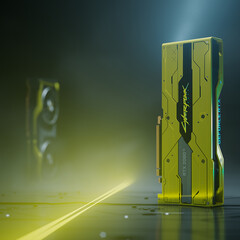 Having given 77 of 200 units away to fans, NVIDIA does not plan to sell the RTX 2080 Ti Cyberpunk 2077. However, several have appeared online and are fetching prices upwards of US$6,152. Act now if you want an over-priced piece of gaming history.
It was always going to happen was it not? In February, NVIDIA announced that it had teamed up with CD Projekt to release the GeForce RTX 2080 Ti Cyberpunk 2077 Edition. Thought originally to be the RTX 2077, the Cyberpunk 2077 Edition turned out to just be an RTX 2080 Ti with a Cyberpunk livery.
The clincher? NVIDIA would only create 200 units, and planned to give most of them away to fans of the brand and CD Projekt. While some of the winners are proudly displaying their limited edition RTX 2080 Ti, not all are.
Unsurprisingly, one unit has found its way onto eBay. While not the first to be sold on, it is currently fetching US$5,100 on the auction website. With dozens of bids at the time of writing, the final price will likely be much higher. Oddly, other editions are priced at considerably lower than this one is.
While we are not saying that re-selling something that you have won is a bad thing, it falls short of NVIDIA's intentions for the Cyberpunk 2077 Edition. We are struggling to see how flogging the card on eBay fits with NVIDIA's view to "help good causes fund their charitable acts".