The latest Casio G-SHOCK watch is the first of its line to have a heart-rate monitor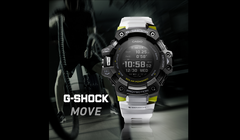 Casio's upcoming addition to the G-SHOCK line has heart-rate tracking functions for the first time. The watch's new sensor is also joined by others to track fitness-related activities while in use. It is also a Bluetooth device, with its own app to display its measurements and manage notifications while training.
Casio's newest G-SHOCK-series watch is called the Move (or GBDH1000) variant of this line of watches. It is the first one to feature heart-rate tracking via an optical sensor. This extra added function shows its metrics on a dedicated section of the device's MIP-LCD screen, and can also relate them to 5 distinct workout modes (Recovery, Base, Cardio, At Threshold or Maximum).
The optical sensor is also joined by a triple barometric pressure/compass/temperature sensor in order to track other areas of performance during exercise. Furthermore, the G-SHOCK Move also features a 3-axis accelerometer to track metrics such as step count or run-distances. It also incorporates standalone GPS/GLONASS for general location- and activity-tracking.
Finally, the watch also supports cardiorespiratory fitness tracking through VO2max (or oxygen consumption) sensing, which can then be tracked using a Firstbeat Technologies algorithm, a feature that also makes a debut in this G-SHOCK.
This data (and analysis) can then be sent to the G-SHOCK Move app via Bluetooth for storage and long-term performance evaluations. Therefore, this watch is definitely geared towards use while getting or keeping fit. This is also evident in its large, easy-press buttons and urethane band, which comes in black (GBDH1000-1) or white with neon accents (GBDH1000-1A7).
Either choice will be priced at US$399.99 on the launch of both the G-SHOCK Move and its app on April 17, 2020. It will be available on the series' site and in selected US retailers from that date.