Microsoft may use AMD CPUs in Surface Laptop refresh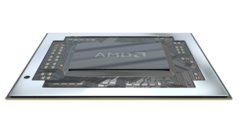 It has been claimed that Microsoft is mulling over using AMD chips in a future Surface Laptop refresh. Apparently, the Redmond-based company has become frustrated with Intel, especially over the chipmaker's long delay in shipping 10 nm Cannon Lake processors. It would be a considerable coup for AMD if Microsoft went ahead and utilized the red team's upcoming Picasso APU.
In his book Beneath a Surface, tech journalist Brad Sams has made some interesting statements about Microsoft's plans for its products. One of the comments that has elicited a flurry of interest is his belief that the tech giant could produce a refresh of its Surface Laptop line-up that includes some models powered by an AMD APU. This would be a major change for Microsoft, as all its previous Surface products have featured chips from Intel or Nvidia (the Surface RT and Surface 2 tablets featured Tegra SoCs).
It appears Microsoft, along with a number of other computer manufacturers, has become disconcerted with the amount of time it's taking Intel to start fully shipping 10 nm chips. The Cannon Lake generation of processors has suffered considerable delays; the CPUs were actually expected to be released in 2016 but still haven't made much of a splash in the market. At one point, it was believed Intel had scrapped plans to produce 10 nm processors and the company even had to resort to tweeting a denial in October 2018.
Intel has enjoyed a powerful lead over AMD in CPU market share, but it seems the red team has been making some major gains in 2018 and has not suffered the same processing issues that have plagued Intel. Sams makes the conjecture that Microsoft could release a refreshed Surface Laptop in late 2019 (Q4), and these revamped devices may feature 12 nm Picasso APUs from AMD. The Surface Laptop 2 has just started shipping with quad-core Kaby Lake-R processors; it could be possible that this ends up being the last time a new Surface Laptop features a chip from the blue team.