First 10 nm Intel Cannon Lake processor die spotted in the wild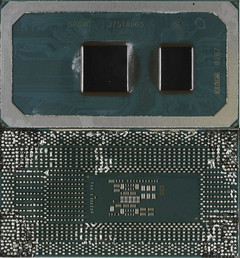 Although Intel is very quiet with the details, independent sources confirmed that the new 10 nm processor is based on a 71 mm Cannon Lake die. Its die includes a 45 x 24 mm CPU area and a 47 mm chipset. Unfortunately, due to the troublesome manufacturing process, Intel will not be able to mass produce the new chip before the end of the year.
The Intel Core i3-8121U processor is already on the market thanks to the Lenovo IdeaPad 330 notebook. However, this chip is only available in a limited quantity, and Intel did not share many details about its innards so far.
TechInsights has recently been able to unveil a few interesting details about the 10 nm logic process inside the i3-8121U chip. These are a few highlights:
third-generation FinFET technology
100.8 mega transistors per sq mm — 2.7 times higher over the 14 nm node
minimum gate pitch shrunk from 70 nm to 54 nm
minimum metal pitch shrunk from 52 nm to 36 nm
In addition to the above, the Intel Core i3-8121U also features the deepest scaled pitches of both existing 10 nm and upcoming 7 nm technologies, new self-aligned patterning schemes and first Co metallization/Ru usage in BEOL (back end of line, the second portion of IC fabrication where the devices get connected with wiring on the wafer), and more.
For now, the output of the 10 nm parts is still very low, so Intel should be only able to begin mass production of the new Cannon Lake processors next year. Considering this, the Intel Core i3-8121U-powered Lenovo IdeaPad 330 might not have any direct competitor for a while, but it might not be available in quantities large enough to cover the demand, either.