Intel Core i3-8121U SiSoft Sandra benchmarks leaked by Lenovo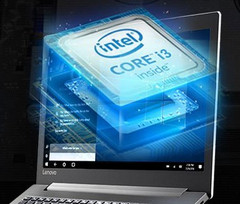 It looked like Intel is going through some production problems with the 10 nm Cannon Lake chips, but the latest leaks involving Lenovo's IdeaPad 330 series powered by the Core i3-8121U CPU signals the fact that Intel will actually be the first to achieve the 10 nm milestone this year. Since the i3-8121U is an entry-level dual-core, the SiSoft Sandra results are not great, but still decent for a 15 W TDP CPU.
The IdeaPad 330 powered by a Cannon Lake-U Core i3-8121U CPU was already spotted at e-tailers last week, while some CPU specs have been leaked in slides, revealing it is roughly 25% faster than the i3-6006U model. With the imminent release of the Cannon Lake CPUs, Intel can finally claim that it is the first CPU builder to achieve the 10 nm milestone in 2018, even though previous reports stated that Intel is most likely to push back all 10 nm processors to early 2019. As the IdeaPad 330 models are expected to ship in June, some testers over at Lenovo labs already posted some benchmarks on the SiSoft Sandra site, presenting decent results for a 15 W chip.

Intel's Core i3-8121U scored 142.13 Mpix/s in the latest version of SiSoft Sandra, a score that is pretty average, but not too shabby for a dual-core 4-thread CPU that is clocked at 2.20 GHz and can go to around 3.2 GHz in boost mode, plus it gets 4 MB SmartCache. These results were supposedly provided through an IdeaPad 330 notebook that also comes equipped with an AMD Radeon RX 540 2 GB VRAM GPU, 8 GB DDR4 RAM, 1 TB 5400 RPM HDD + 256 GB SSD storage combo, and a 1366 c 768 15.6-inch TN panel. This particular configuration is expected to be priced at ~US$450.

Judging by Intel's past CPU release schedules, there will be some more ultra-low voltage models launched before the desktop + mobile equivalents and HEDT versions. It is still unclear if Intel will launch any of the desktop versions this year, since the company had production yield issues occurring in early 2018.