Surface Laptop 2 blushes in new color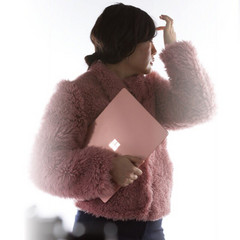 Microsoft executive Panos Panay has taken to Twitter to reveal a new color for the Surface Laptop 2: blush. The device already offers potential customers a range of colors to choose from, which includes platinum, burgundy, cobalt blue, and black. Unfortunately, unless you happen to be in China, then it's unlikely you will get your hands on the pink product.
Panos Panay has tweeted an image of the Microsoft Surface Laptop 2 in a brand-new color. The post describes the device as being decked out in "blush," but you would be forgiven for calling it "pink." The picture in the tweet also features the Chinese designer Quan, who is credited with developing the novel striking finish.
The Microsoft Surface Laptop 2 only recently launched, and it features a 13.5-inch 2256x1504 resolution display and is powered by chips from Intel's eighth generation of CPUs. Memory ranges from 8 GB to 16 GB RAM and storage options include 128 GB, 256 GB, 512 GB, or 1 TB of drive space (all SSDs).
Surface fans eager to get their hands on the new blush-colored laptop may be frustrated to learn that Microsoft currently only has plans to keep the device as an exclusive for the Chinese market. However, considering the positive response the tweet has received so far, the elusive pink product may eventually appear on other global markets in the not too distant future.