A video clip of an Apple iPhone 14 Pro has gone viral over social media and tech sites because of the simply intriguing feature it shows. The video, which is almost certainly fake and appears to have originated on the Chinese-language Weibo site, is a grainy look at an "iPhone 14 Pro" while in a settings menu. The user hits a toggle switch that then causes the cut-out notch on the smartphone to transform into the pill + punch-hole solution that was for a long time expected to appear on the iPhone 14 Pro and iPhone 14 Pro Max.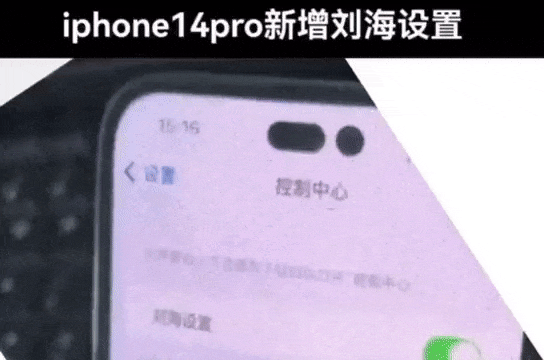 The simple 5-second clip has taken the tech community on social media by storm, with numerous noted leakers such as Ice universe and ShrimpApplePro giving their opinion on the video, which is mostly that the whole thing is fake. There are a number of reasons that have been offered up to prove that the Apple iPhone 14 Pro notch-toggling video isn't real, including the mention of the top bezel looking both too thick and slightly askew, the signal strength bar being shown on the wrong side (it is believed to be on the left side of the cutout), and the notch simply being too large. It doesn't help that a big chunk of the top right-hand corner is also suspiciously obscured.
There are even three more quite satisfactory reasons for this iPhone 14 Pro video to be nothing more than fan fiction. Firstly, the Chinese characters have been translated into the word "bangs", which is the regional equivalent of using "notch", but it certainly wouldn't be used by Apple as a settings menu header. Secondly, a recent and seemingly trustworthy source has already made it clear that the black space between the pill and punch-hole cannot be disabled by the user. Thirdly, there is no way Apple would allow users such a customization option (a running joke that has been made by many commenters) that would also dilute the recognizability factor of the iPhone 14 Pro and iPhone 14 Pro Max.
My interest in technology began after I was presented with an Atari 800XL home computer in the mid-1980s. I especially enjoy writing about technological advances, compelling rumors, and intriguing tech-related leaks. I have a degree in International Relations and Strategic Studies and count my family, reading, writing, and travel as the main passions of my life. I have been with Notebookcheck since 2012.