Computex 2018 | Klevv launches CRAS X 'wireless' RGB NVMe SSDs and CRAS X DDR4 memory kits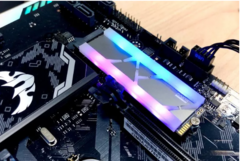 SK Hynix sister concern Klevv has announced the availability of the world's first 'wireless' RGB M.2 NVMe SSD. Called the CRAS X, the SSD has a hollowed out heatsink to let the RGB lighting take center stage. Apart from the CRAS X SSD, Klevv is also introducing CRAS X RAM modules with RGB and support for Intel XMP 2.0.
Ahead of Computex 2018, Klevv introduced its CRAS X range of M.2 NVMe SSDs and DDR4 memory kits. The CRAS X M.2 NVMe SSD is the world's first M.2 SSD to include RGB lighting effects without the need of a separate cable or header. Klevv, a sister concern of memory major SK Hynix, is also offering new CRAS X memory modules with a crystal-like RGB lighting effect inspired by StarCraft.
The CRAS X M.2 NVMe SSD is a PCIe Gen3 x4 drive that comes with a Low Density Parity Check (LDPC) engine. LDPC allows for Single Error Correction Double Error Detection (SECDED), which is an Error Correction Code (ECC) implementation commonly seen in more commercial systems. The SSD stands out with its unique design that has an hollowed out heatsink that shows off the integrated RGB effects. The SSD would also be getting regular firmware upgrades that allows thermal throttling to be adjusted over time, which helps in prolonged life and/or increased performance.
Klevv says that each chip in the SSD is first tested solo for 2 hours before assembly into the final product, which is again tested for another 4 hours. Selected modules in the production line undergo spot checks for an additional 16 hours. Klevv also bundles Acronis back up software for data migration. The CRAS X SSDs are expected to be available at the end of Q3 in 120 GB, 240 GB, and 480 GB capacities for a price that should be close to £10 more than a conventional M.2 NVMe SSD of a similar capacity.
Apart from the new SSDs, Klevv is also introducing new DDR4 RAM modules under the CRAS X brand. These modules have a crystal-like RGB housing on the top that is compatible popular RGB control software such as Asus Aura Sync, Gigabyte Fusion, and MSI Mystic Light to keep the lights in sync with the rest of the system. The CRAS X RGB memory modules also undergo rigorous testing and come with support for Intel XMP 2.0 for one-step overclocking.