Is Essential solving the problem for notch haters?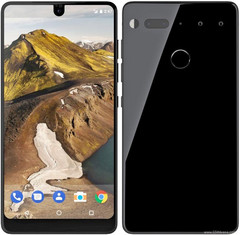 Essential has filed a patent with the USPTO for "image capture with a camera integrated display." Could this mean the American technology company is working on a method to remove the selfie camera from the polarizing top notch position that many manufacturers have currently adopted? Would new sensor-positioning technology be introduced in a future Essential smartphone release?
A patent for "image capture with a camera integrated display" has been reported on, and it was filed with the United States Patent and Trademark Office by Essential Products in February 2017. The abstract for the patent describes how the display of a smartphone consists of several layers and that a camera could be placed between the layers. The patent suggests a number of methods to achieve this goal, including integrating the camera into the display beneath the color filter layer or placing the camera beneath the thin film transistor layer. A separate patent offers the idea of creating a hollowed electronic display, which would allow a sensor to be placed inside it.
The "notch" has been a controversial issue among reviewers. It has been championed by the Apple iPhone X, but the notch was also a feature found on the Essential Phone (PH-1), which was released before the iOS device. Is it possible Essential feels responsible for the notch brouhaha and plans to develop a better method of incorporating a front-facing camera into a smartphone? The patents do suggest that is what the innovative company is up to, but a patent being filed is not a guarantee that Essential will go any further with that particular development.