Intel Core i9-10900K tries hard but fails to beat the AMD Ryzen 9 3900X in Corona Render Test; Zen 3 Ryzen 4000 may further relegate Intel to the backseat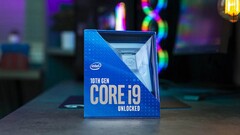 Intel recently launched the 10th gen Comet Lake-S processors featuring up to 10 cores, 20 threads and boost clocks that can go up to 5.3 GHz under certain conditions. A few benchmarks that have leaked so far have shown that the flagship Core i9-10900K is not far behind the AMD Ryzen 9 3900X. Now, a Corona Render Test benchmark is showing similar results, the Intel chip seems to have put in considerable effort for something AMD's 12-core could accomplish relatively easily.
The Corona Renderer is a photorealistic renderer available as a standalone application or as a plugin for 3D Studio Max or Maxon Cinema 4D. The Corona Renderer is entirely CPU based and includes a High Quality denoiser that works with any compatible CPU. For using the optional Fast Preview Denoiser plugin, a compatible NVIDIA Maxwell or GPU is needed.
The time taken to render one complete scene was compared between the AMD Ryzen 9 3900X and the Intel Core i9-10900K. As per the CPU-Z info shown in the video (linked below), the Ryzen 9 3900X ran close to a frequency of 4.1 GHz while the Core i9-10900K could attain the 4.9 GHz all-core Thermal Velocity Boost clock. The AMD CPU also ran a bit cooler recording a maximum temperature of 75°C while the Intel 10th gen flagship hit nearly 84°C on some cores. The Intel CPU was shown to be paired with DDR4-4400 CL16 RAM but no such info was shown for the AMD rig.
The Ryzen 9 3900X could complete the rendering and denoising within 20:48.15 minutes while the Core i9-10900K took 23:50.08 minutes to do the same. The nearly 4-minute time difference does not seem much, but there are few points to be noted here.
Firstly, the time difference, though perceivably small, adds up significant time savings during bigger render projects. Secondly, we see that the Ryzen 9 3900X is able to finish the project quickly at relatively lower clocks and lower temperatures compared to the Core i9-10900K.
While this can be attributed to four additional threads that the Ryzen 9 3900X offers, it also shows that Intel hasn't been able to do much on the IPC front in Comet Lake mainly because the underlying architecture is still the old Skylake at heart. This could be the reason why the Core i9-10900K needed to push all cores at nearly 5 GHz to save itself from total embarrassment. The unfortunate side effect of this is the increased temperatures that are seen.
AMD will be announcing the Zen 3-based Ryzen 4000 desktop CPUs in a few months from now and if rumors are true, these are expected to bring in a solid 15-20% IPC increase compared to Zen 2-based Ryzen 3000. This spells trouble for Comet Lake-S and Intel would have to do some voodoo to make Rocket Lake-S, which is again a 14nm part, competitive with upcoming Ryzen offerings.
Though a cell and molecular biologist by training, I have been drawn towards computers from a very young age ever since I got my first PC in 1998. My passion for technology grew quite exponentially with the times, and it has been an incredible experience from being a much solicited source for tech advice and troubleshooting among family and friends to joining Notebookcheck in 2017 as a professional tech journalist. Now, I am a Lead Editor at Notebookcheck covering news and reviews encompassing a wide gamut of the technology landscape for Indian and global audiences. When I am not hunting for the next big story or taking complex measurements for reviews, you can find me unwinding to a nice read, listening to some soulful music, or trying out a new game.