IDC analytics point to 3-year decline in tablet sales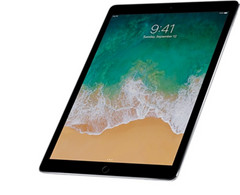 Marking the twelfth straight quarter of year-over-year decline, the third quarter of 2017 saw the tablet market slump 5.4%. Despite a bump in sales growth from 4 of the top 5 tablet retailers, the market as a whole continues its downward trend with no end in sight.
It's no secret that the tablet market hasn't quite managed to maintain the viral growth it once experienced, but a new report from the IDC (International Data Corporation) points out a distressing truth for tablet makers: sales of tablets have been declining every quarter for the past three years.
This decline continued in the third quarter of 2017, despite the fact that several leading manufacturers show a bump in their year-over-year growth, according to the IDC. Four out of the top five tablet manufacturers saw positive growth between Autumn 2016 and Autumn 2017, but the market as a whole slumped 5.4% over that same time period. Apple continues its uncontested dominance, shipping a total of 10.3 million tablets, about 1 million more than the same quarter last year. This is likely due to the aggressively priced "new" iPad released earlier this year. Despite the definitive price premium over competitors like Amazon and Huawei (which tend to stick to the budget end of the market), iPads continue to be the device of choice, capturing 25% of total sales between Q3 2016 and Q3 2017.
Samsung saw a steep decline of about 7.9% year-over-year, which is far more exposed to competition risk in the lower end with their A and E series devices. Amazon saw an incredible 38.7% growth. Put in the context of hard sales, that translates to about 1.3 million more units sold. The online retailing colossus continues to be a popular choice in the lower end of the market in North America thanks to its Fire line of tablets, which are often heavily discounted as a way to get users tied into Amazon's other paid services.
Overall, though, tablets are not the money-making devices they once were. IDC estimates this is because of factors like long replacement cycles (the time after which an existing device is replaced with a newer version), an increased demand and use case of smartphones, and the rise of convertible laptops. Linn Huang, a research director at IDC, said that in a recent survey, "owners of both convertibles and detachables stated they were far more inclined to recommend a convertible to another shopper than a detachable…. Market momentum has steadily shifted away from the latter towards the former over the course of this year. The 2017 holiday season may prove to be a critical crossroad for the detachables category."
Working For Notebookcheck
Are you a techie who knows how to write? Then join our Team! Especially English native speakers welcome!
Currently wanted:
News and Editorial Editor - Details here