Google Android 7: Regular Maintenance-Releases planned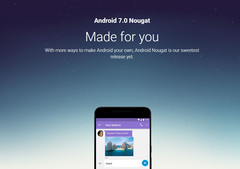 Google is planning to release regular Maintenance-Releases for Android 7 Nougat starting as early as this fall. According to rumors, this year's Nexus-devices could be announce together with the availability of MR 1.
Google is planning to do things a little bit different with Android 7 compared to previous Android versions. Not only will it continue to release monthly security updates for its major mobile OS, it also plans to release regular maintenance releases, bringing new features to Android-Users during the year. The first maintenance release could arrive as early as this fall and be preceded by Developer Preview versions for developers and curious users just like yourself.
Some of the experimental features we managed to see lately like a redesigned Nexus-Launcher or slightly changed navigation buttons could in fact be released to stock Android as part of the first maintenance release. Also Google could integrate the Google Assistent as part of Google Android with MR 1. According to rumors, the availability of MR 1 later this year will also be in line with this years release of the Googles Nexus-lineup, which hasnt officially been announced so far.