EA "only" sold 7.3 million copies of Battlefield V, 1 million fewer than hoped for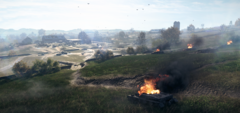 It has been reported that around 7.3 million units of Battlefield V have been sold since it was released in November last year. EA's stock price fell after the company announced a cut in its revenue outlook, but the price rose later in the day and closed at a higher price than the previous day. For Q3 FY19, EA reported total net revenue of US$1.289 billion.
A common theme recently with big tech brands has been the cutting of revenue forecasts. The latest major company to do so is Electronic Arts (EA). In a press release, the company stated that "Q3 was a difficult quarter." Two of the big releases for the firm during the quarter were Battlefield V and Command & Conquer: Rivals. But it seems neither title has performed as well as expected.
Apparently, Battlefield V has racked up seemingly healthy sales of 7.3 million copies. There are many game developers and publishers out there who would be delirious with glee at that kind of figure, but for a company as large as EA, the number is somewhat disappointing. In an analyst call, EA's CEO admitted that the publisher expected Battlefield V to shift about one million more units than it did.
The lower-than-expected sales total for Battlefield V has been attributed to strong competition and the lack of a battle royale mode at the time of launch. However, it's not all doom and gloom for EA just yet. The just released battle royale title Apex Legends is already performing incredibly well, and massive sales numbers are expected for the soon to be released Anthem.