Devil May Cry 4: Special Edition gameplay looks flawless on GPD P2 MAX in promo video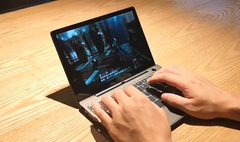 GPD has posted a video of one of its upcoming P2 MAX devices being put through its paces. An intense fight sequence from Devil May Cry 4: Special Edition is shown and the console/mini laptop hybrid seems to take the high demands on its hardware in its stride. The gameplay looks seamless, which will please those considering a purchase.
GPD has uploaded a short video of a P2 MAX console in action, and based just on the smooth rendering of the graphics of 2015's Devil May Cry 4: Special Edition, it's a pretty impressive demonstration. GPD simply states it's a pilot video of the P2 MAX in a gaming session; it doesn't mention which variant of the mini laptop is being shown, although it's more than likely to be the premium model.
The GPD P2 MAX (formerly known as the Pocket 2 Max) is starting to look like a formidable product. The smooth frame rates on show and the clear audio that can be heard near the end of the video clip testify to the mini laptop deserving its gaming label.
However, with price points of US$529 for the base model and US$705 for the premium model, GPD will really have to deliver to snatch customers away from console giants and gaming laptop leaders alike.