Deal | Asus TUF A15 with Ryzen 7 4800H and GeForce GTX 1660 Ti now available for $999 USD, severely undercutting the Dell G5 15 SE with SmartShift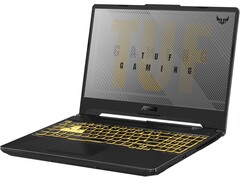 In light of the purported temperature issues surrounding the all-AMD Dell G5 15 SE, users may be out looking for an alternative mid-range gaming laptop. Asus will be swooping in with a new TUF A15 configuration soon to woo in gamers who might now be on the fence about the Dell.
The TUF A15 will come with very similar features to the aforementioned G5 15 SE except for one important difference: a GeForce GTX 1660 Ti GPU instead of the Radeon RX 5600M. The system won't come with AMD SmartShift as a result, but the raw power of the GTX 1660 Ti over the Radeon RX 5600M is expected to more than make up for that missing feature.
Outside of the GPU, each system will come with a Ryzen 7 4800H CPU, 144 Hz 1080p display, 16 GB of DDR4 RAM, and a 512 GB NVMe SSD. The Dell G5 15 SE costs almost $1200 USD when configured with these specifications compared to only $1000 for the Asus.
However, we still don't know when the Asus TUF A15 will actually ship according to the retailer. Even so, it might be worth the wait for its higher performance-per-dollar over the Dell. See our full review on another configuration of the same TUF A15 chassis here to learn more about the Asus system.
After graduating with a B.S. in environmental hydrodynamics from the University of California, I studied reactor physics to become licensed by the U.S. NRC to operate nuclear reactors. There's a striking level of appreciation you gain for everyday consumer electronics after working with modern nuclear reactivity systems astonishingly powered by computers from the 80s. When I'm not managing day-to-day activities and US review articles on Notebookcheck, you can catch me following the eSports scene and the latest gaming news.