CES 2018 | Asus ROG Strix Flare is a mechanical keyboard with flair, and the Asus Bezel-Free Kit makes multi-monitor seamless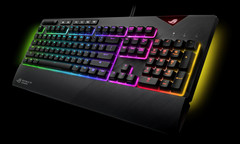 With the ROG Strix Flare, Asus has added on-board programmability and moved some of the media control keys to improve reachability. Their Bezel-Free Kit is in the concept stage, but uses optical tricks to hide the bezels in multi-monitor setups.
Working For Notebookcheck
Are you a techie who knows how to write? Then join our Team!
Currently wanted:
News Editor - Details here
Italian Translator - Details here
Asus ROG Strix Flare
The ROG Strix Flare is a mechanical keyboard that Asus say they have added some twists to the traditional design to make it better suited for gaming. An example of this is the repositioning of the media keys — including a large volume roller — towards the top left-hand side making them more accessible with your keyboard hand, rather than the top right where either the keyboard hand or mouse hand will need to move a reasonable distance to hit them. A second example is the inclusion of a dedicated button to disable the Windows Key, removing the risk of accidentally returning to the desktop when your pinkie goes rogue while aiming for the control key.
In line with the pedigree expected from a Strix product, the Flare will feature Cherry MX RGB switches that provide per-key RGB lighting. Asus says they will make versions for the main Cherry MX switch types that cover all users "…whether you prefer a linear stroke, tactile bump, or accompanying click." From this, we can say there should be MX Red, MX Brown, and MX Blue options respectively, but the stiffer MX Black is also manufactured with an RGB variant so that might be included too. Later in 2018, we will see MX Speed Silver switches as an option, which is linear and has the same operational force as MX Red, but with a shorter actuation distance and reduced key travel.
In addition to the LED inside each switch, there are another nine LEDs on each edge to extend the glow onto your desk. All LEDs can be controlled individually using Aura Sync. Alternatively, there are 13 patterns available for across-the-board effects such as wave or raindrop. A blank piece of acrylic is supplied in the box so that users can make their own logos to replace the ROG one on the top right.
Possibly the main feature that cements the ROG Strix Flare as a gaming keyboard is the programmability. This can be done directly on the board itself for compatibility and transferability purposes, or the Armory2 software can be used for greater levels of control.
The Asus ROG Strix Flare will be available in North America in February 2018 with a retail price of US$180

Asus Bezel-Free Kit
Asus has developed a Bezel-Free kit that hides the bezels in multi-monitor setups and provides a more seamless experience. Multi-monitor setups are favorite for driving and flight simulators, as well as improving peripheral vision in first-person shooters. The kit consists of two devices that have plastic mounting brackets on each end and two lenses through the middle.
"The lenses are made from PMMA, a type of transparent thermoplastic that's much more durable than glass. This material lets 90% of the light from the monitors shine through, making the picture under the lenses slight dimmer than the rest of the screens but less distracting than the opaque seams created when two bezels are pushed up against each other."
The kit needs to be custom designed for each monitor, so only some Asus models are currently supported. The optical effect also requires the screens to be at a 130-degree angle (the kit ensures this angle), so tighter custom angles aren't possible.
This kit is currently in the concept phase, so Asus is using this time to gauge interest.
Quality journalism is made possible by advertising. We show the least amount of ads whenever possible. We intentionally show more ads when an adblocker is used. Please, switch off ad blockers.