CES 2018 | Asus X507: a compact and light 15-inch laptop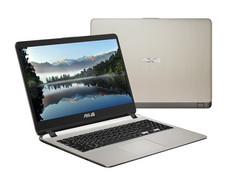 Technically not quite keeping pace with the times, Asus might have mainly aimed to keep the costs low with the 15.6-inch X507UA laptop presented at CES in Las Vegas. Despite the dual storage system, it is still relatively compact and light, and is already listed on the Asus website.
We are practically not getting any detail on the new entrant from the press release but luckily the Asus homepage already lists the Asus X507 in detail. With the available i3-6006U, i5-7200U, and i7-7500U CPU options, Asus offers a dual-core setup which is not exactly cutting edge. The 15.6-inch display is available either in Full HD resolution or as a basic variant with an only 1366x768 pixel resolution. An integrated Intel GPU serves as the graphics card.
Due to the dual-storage system, in addition to a 128 or 256 GB SSD, there is also the option for a 500 GB or 1 TB hard drive. In terms of connections, one USB 3.0 port, two USB 2.0 ports, as well as USB-C and HDMI are available, and there is also a dual-band WLAN adapter (802.11ac and Bluetooth 4.2). At 33 Wh, the battery has a relatively low capacity, but is supposed to recharge quickly. At 1.68 kg (3.7 lb), the X507 turned out relatively light for a 15-incher. Asus did not specify anything yet on price and availability.
Source(s)