CES 2021 | As if the Razer Blade 15 wasn't thin enough, the new 2021 model will be even thinner with new GeForce 3080 GPUs, Advanced Optimus, and 360 Hz FHD displays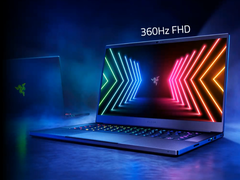 Whenever Intel or Nvidia announce a new generation of mobile processors, you can bet Razer will be first in line to use them. The manufacturer will be refreshing its Blade 15 and Blade Pro 17 series for the new year just in time for the upcoming Nvidia GeForce 30 series for laptops.
Aside from the obvious GPU upgrades, one Blade model in particular will be even thinner than previous generations. The 2021 Blade 15 Advanced Model will be just 16.99 mm thick compared to 17.8 mm on the 2020 model. Beyond that, there are no more gen-to-gen physical changes as both the 2021 Blade 15 Base Model and 2021 Blade Pro 17 will have internal updates only.
All models will be getting new display options and HDMI 2.1 ports to support 120 Hz 4K or 8K 60 Hz external monitors. The Blade 15 Advanced Model will have 240 Hz QHD, 360 Hz FHD, and 4K OLED SKUs while the Blade 15 Base Model will get 120 Hz FHD, 144 Hz FHD, and 165 Hz QHD. Interestingly, the 165 QHD option also promises full DCI-P3 coverage which would be a first for the Base Model while the 240 Hz QHD Blade 15 Advanced Model will support G-Sync through Advanced Optimus. The larger 17.3-inch Blade Pro will have 165 Hz QHD, 360 Hz FHD, and 120 Hz 4K.
RAM will be bumped up to 32 GB DDR4-2933 for both the Blade 15 Advanced Model and Blade Pro 17 while the Blade 15 Base Model will still be limited to 16 GB.
CPUs are the same 10th gen Core i7-10875H or Core i7-10750H options as last year's models.
The Blade 15 Advanced Model, Blade 15 Base Model, and Blade Pro 17 will all launch in just a few short weeks starting at $2499, $1499, and $2299 USD, respectively.
After graduating with a B.S. in environmental hydrodynamics from the University of California, I studied reactor physics to become licensed by the U.S. NRC to operate nuclear reactors. There's a striking level of appreciation you gain for everyday consumer electronics after working with modern nuclear reactivity systems astonishingly powered by computers from the 80s. When I'm not managing day-to-day activities and US review articles on Notebookcheck, you can catch me following the eSports scene and the latest gaming news.