The Naga X launched late last month as an alternative to the pricier Naga Trinity. If the interchangeable side plates of the Naga Trinity aren't your thing, then the Naga X might be worth a look as it is essentially the same mouse from a visual perspective with minor specification differences. Razer sent us a unit to test out alongside our recent Blade Pro 17 GeForce RTX 30 review for our honest impressions.
Upon opening the box, the first thing users will probably notice is how light the mouse is. Razer says the Naga X is one of the lightest mice in its lineup at just 113 g including the USB cable (or 85 g without). For comparison, the wireless Logitech G602 and Performance MX are heavier at 133 g and 163 g with their batteries, respectively. Combine this with the Teflon feet and the Naga X glides more swiftly and with less effort than most other mice.
Pros
Cons
+ Chroma RGB
+ Up to 18000 DPI
+ Flexible and braided USB cable
+ Extensive customization options
+ Teflon feet
+ Very lightweight
- USB cable is not detachable
- Buttons are very loud when pressed
- No individually-lit key settings
- Matte surface is a fingerprint magnet
- Side button positioning may be too tight or too wide for larger fingers or smaller fingers, respectively
- Not all functions are saved to the local onboard memory
- No free-scrolling wheel function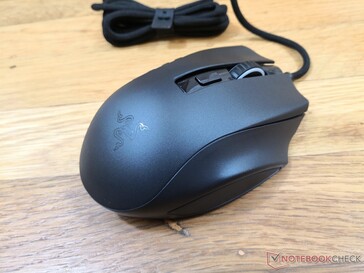 The main selling point of the Naga X is its 12 programmable side buttons (plus 4 up top) designed for MMO gamers or any scenario where macro shortcuts can be useful. The buttons themselves don't require much force to depress while feedback remains crisp and clicky for a satisfying feel. This ensures that users can press a button quickly and continuously without worrying about fatigue setting in. The side buttons on the Logitech G602 are firmer in comparison, but they require greater input force as a consequence.
For our MMO gaming test, we played Guild Wars 2 as it has the classic 1 through 8 action keys that all translate well to the side buttons of the Naga X. In practice, however, we find some buttons to be easier to press than others because of the tight spacing of the keys. Users with smaller hands may find the 1 and 10 buttons tough to press consistently as a result. Fortunately, such keys can be assigned to actions that are used less frequently like weapon switching or abilities with longer cooldowns.

We also want to give some credit to the customization features of the Synapse software. Though the software itself can be bloated and slow to launch with sign-in issues, its customization options are much greater than those from competitors like Logitech or Rosewill. The Logitech G602 G Suite, for example, does not support text functions or Hypershift which are both present on the Razer while the Rosewill Engine Suite software is even more limited in macro functions.
There are a few things we would like to see improved or added on a potential future redesign. Individual LED controls for each button would be great to have for even more visual customization between different profile settings. For a company that excels in RGB color options, no per-key RGB lighting is a bit of a bummer. A free-scrolling wheel would also be a useful feature much like on the Logitech Performance MX. Each button click, though satisfactory in feedback, are louder than expected which some users may not particularly like. Many of the customizable features are not saved on the mouse and are instead saved to the Synapse software despite the fact that the Naga X has onboard memory.

Our final criticism relates to the matte surface of the mouse where the palm and fingers rest on. It's the kind of surface where grease will accumulate over time to turn the otherwise clean matte look into something glossy and unsightly. Old keyboard keys and mice suffer from something similar after months or years of constant use. Even so, users who know they can exploit all 12 customizable side buttons will find a lot of value out of this lightweight $79 mouse.
After graduating with a B.S. in environmental hydrodynamics from the University of California, I studied reactor physics to become licensed by the U.S. NRC to operate nuclear reactors. There's a striking level of appreciation you gain for everyday consumer electronics after working with modern nuclear reactivity systems astonishingly powered by computers from the 80s. When I'm not managing day-to-day activities and US review articles on Notebookcheck, you can catch me following the eSports scene and the latest gaming news.