Apple's US$129 Thunderbolt Pro Cable: 4 reasons why it's so expensive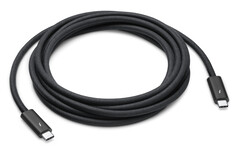 The choices and comments made on this list belong solely to the author.
1. Exceptional ingress protection
While those lucky enough to get their hands on the Thunderbolt 4 Pro Cable likely won't be tearing it apart anytime soon, youtuber ChargerLAB thankfully conducted a thorough teardown of the 1.8-meter variant on his YouTube channel.
In the video, the content creator notes that the woven exterior of the cable is both waterproof and dustproof. Could Apple's new cable be worthy of an IP rating?
2. Conductivity meets backward compatibility
Beneath the liquid and dust-tight seal, the content creator also uncovered a total of 19 wires, noting that five of which were high-quality tinned copper wires for driving power.
The majority of the wires in the Thunderbolt 4 Pro Cable are plated with pure copper and silver, while two plastic-clad wires enable USB 2.0 transmission for backward compatibility with standard USB and Thunderbolt 3.
3. Robustly reinforced
The inside of the connector on the Thunderbolt 4 Pro Cable additionally features 24 gold-plated pins that are shielded by a brass sleeve and strong black plastic.
These protections enhance the long-term durability of the connector by reducing the risk of damage or interference, especially when connected to compatible portables like the latest-gen MacBook Pro.
4. Intel (still) inside
While the Cupertino giant is still in the midst of transitioning its Mac lineup to Apple silicon, Intel chips remain a key part of Thunderbolt workflows for the time being and the Thunderbolt 4 Pro Cable is no exception.
The Intel chip inside the cable directs the Thunderbolt connection while serving to reduce jitter by acting as a signal reconstructor while feeding data to monitors such as Apple's new Studio Display.
Self-proclaimed coffee connoisseur and tech enthusiast Brahm Shank is captivated by the impact of consumer tech: "It's profoundly moving when people discover that the phone in their pocket or the tiny computer on their wrist has the power to enrich their lives in ways they never imagined." Apple, Inc. and its unique position at the intersection of technology and the creative arts, resonates deeply with Brahm and his passion for helping people unleash their potential using technology. Over the years, Brahm has held various podcasts - including famed technologist David Pogue of The New York Times on topics such as Big Tech and digital wellness.