3 great Apple Studio Display killers that cost under US$1,000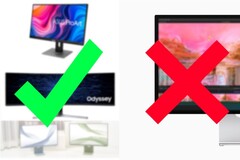 The choices and comments made on this list belong solely to the author.
1. Budget-friendly ASUS ProArt PA278QV for just US$319
The ASUS ProArt Display PA278QV is a great alternative if you're just starting out with colour-accurate work like video or graphic design work. At 27 inches diagonal, and with 350 nits of brightness and an anti-glare coating, the ProArt monitor punches above its weight class. It also features factory calibration and a range of profiles - from a colour-accurate mode with 100% Rec. 709 coverage, to Rapid Rendering, which enables backlight strobing to mitigate the effects of having a low 75 Hz refresh rate.
If you need a colour-accurate display, the ASUS ProArt Display PA278QV should be on your list of finalists. Its only real downsides are the lower display brightness and reduced resolution of 2560x1440. Given that nits is a logarithmic unit, the ProArt is only about 75% as bright as the Apple Studio Display's 600 nits. It will be noticeably dimmer in a side-by-side comparison, but most colour work outside of HDR mastering is usually done at low brightness anyway, and 350 nits is perfectly serviceable. 48-75 Hz Adaptive-Sync is an added bonus if you do want to do some light gaming after hours.
2. The ultra-wide Samsung CRG9 at under US$999 is cheating
Are you angry that Apple is charging US$1,599 for a basic, edge-lit, 60 Hz display? Then you'll be happy to know that this 49-inch Samsung CRG9 goes up to 120 Hz - with AMD FreeSync 2.0 - and has a QLED backlight. However, there are only 10 backlight-dimming zones, which is not saying much. RTINGS measured a peak brightness of 953 nits in SDR mode and 1,023 nits in HDR mode. For a display aimed at gaming, the 1440p, 49-inch, 32:9 behemoth posts some impressive specs for creators as well, with 95% DCI-P3 and 125% sRGB coverage.
If you want to do everything - from gaming to office work, media creation, and media consumption - all on one display, this is the one to get. The regular price directly from Samsung is US$1,199.99, but it can often be found on special offer for US$999 or less.
The Samsung CRG9 display is available on Amazon - and is sometimes listed below MSRP.

3. The Samsung Monitor M8 is a great consumer-grade display
Although the design may look suspiciously similar to the Studio Display, the 32-inch, 4k Samsung Monitor M8 was actually unveiled at CES 2022, two months before Apple's Peek Performance event. If you're after a media consumption or general productivity display, the M8 is a great option. It features reasonable brightness at 400 nits, with 99% sRGB coverage, and a height-adjustable stand as standard. The M8 also includes a neat, detachable, 1080p webcam.
The minimalist styling of the M8 makes it a great addition if you want a large monitor that can also double as a smart TV, since it can function without being connected to a PC and features compatibility with all the major streaming services, including Apple TV+. For the launch price of US$699, the Samsung Monitor M8 makes for a great value proposition, considering the specs and vast variety of wired and wireless connectivity options on offer.

My interest in tech started in high school, rooting and flashing my Motorola Defy, but I really fell down the rabbit hole when I realised I could overclock the i7 930 in my Gigabyte pre-built PC. This tinkering addiction eventually lead me to study product design in university. I think tech should improve the lives of the people using it, no matter the field. I like to read and write about laptops, smartphones, software and trends in technology.