ADATA announces i-Memory AI720 USB drive storage expansion for iOS devices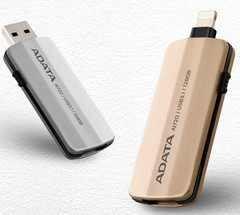 The i-Memory AI720 includes a Lightning connector at one end and a USB 3.1 connector at the other end. It comes in 32/64/128 GB capacities and can easily handle UHD 4K video playback thanks to the 90 MB/s transfer speeds. The OTG functionality allows users to save videos and pictures directly on the stick, in order to save up space on their devices.
Apple fans who need more storage space for their iOS devices can now benefit from ADATA's new i-Memory AI720 USB stick that comes with 32/64/128 GB capacities. It is as thin as an iPhone, at just 0.29 in, and holds an official Apple MFi certificate, so it can connect to Apple devices through the included Lightning connector, while connection to computers is offered through a standard USB 3.1 header. The Lightning connector works even with plush covers. Thanks to the USB 3.1 support, the storage stick can provide a 90 MB/s throughput, enabling Ultra HD 4K video playback without buffering.

ADATA equipped this stick with a sturdy, yet stylish nano coating that protects the hardware from exposure to liquids, dust and rust. The included one-touch backup software allows users to free up space on their devices without having to navigate complicated folder structures, plus it offers the possibility to encrypt files or folders with a master password or different passwords for certain files and folders. Sharing videos and songs is made easy with the proprietary i-Memory app that can send content directly to any big screen connected to Apple TV. Users can choose between space gray and gold color options, and ADATA offers a 2-year warranty for the stick.

The i-Memory AI720 USB stick should become available in the coming weeks, although ADATA did not provide any pricing information as of yet.