For the original German review, see here.
The first version of the Universal Serial Bus already came into being in 1996 and was continuously enhanced since then. Ever since USB 2.0, it can doubtlessly be considered as the most popular standard interface, which is still heavily used today. Since USB 2.0 and the USB 3.0 successor have several limitations, a major revision was ventured. Although the name change from USB 3.0 to USB 3.1 only suggests small improvements, it is overall the most extensive modernization in the history of the Universal Serial Bus.
Apart from a significant performance gain to 10 GBit/s, the new USB 3.1 version provides up to 100 W of power. In addition, the compact Type C connector is reversible, while its predecessor had to be inserted with the right side up. It is a welcome added value that USB can now, alike Thunderbolt, also transfer image signals. All these innovations taken together give an extremely powerful feature set, which actually is a small revolution in the history of USB.
Connector Variants
However, the reality is slightly different. Despite the label "USB 3.1," the promoted pros are not unnecessarily available. Apart from the reversible Type-C connector, the familiar Type-A and small and wide Micro-B are still available. Mini-B has become outmoded and is practically no longer used in new devices. Thus, the number of possible connectors increased - at least until the reversible Type-C becomes the only option in all segments.
Performance Differences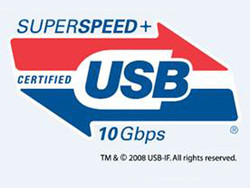 Apart from the plethora of connectors, there can be extreme performance differences. For example, the small Micro-B generally only delivers USB 2.0 performance and is intended for use in smartphones and tablets. Type-C, Type-A, and Type-B can also be limited in terms of performance (USB 2.0 or USB 3.0). You have to be very careful to get what you expect in view of marketing promises. USB 3.1 cables, which explicitly support 10 GBit/s are still very rare so far and were only available from Belkin at the time of testing. All other cables labeled as "USB 3.1" had either a USB 2.0 (480 Mbit/s) or USB 3.0 limitation (4 GBit/s) in the small print. However, you should be quite sure to get a full 10 GBit/s as soon as there is Superspeed+/ SuperSpeedPlus or a small "10" (for 10 GBit/s) imprinted on the connector.
Other Features
Other new features, like that USB 3.1 provides significantly more power or the transfer of image signals, are still hardly used so far. Only Apple offers multi-functional solutions with its Type-C adapters for the MacBook 12, but they could not be used with the test interface on a Windows computer. At least, the MacBook 12's USB-C AV Multiport adapter can be used to connect a display and also for charging or using simple USB devices like smartphones etc. Since solutions which use the other features are still missing, we will only cover data transfer in this review.
Requirements
If you are aware of these small details, an upgrade is quite simple and relatively cheap. The comparably fast Thunderbolt interface is much more expensive in this regard.
Empty external cases or an interface adapter make upgrading especially easy for users. Existing mass storage devices can be reused and it is not necessary to buy a completely new device.
Again, you have to be careful, since currently available adapters and cases are often limited to SATA III (600 MB/s). Empty cases with M.2-PCIe interfaces were not available at the time of testing. This might also be due to the fact that a compatible chip is not available yet. Only Asus offers an external drive, which uses two mSATA SSDs in RAID 0 connection (ASMedia Chip ASM1352R) at least, with the USB 3.1 Enclosure. It is possible to significantly exceed the SATA III limit when combined with USB 3.1. SanDisk's external Extreme 900, which is supposed to be available with up to 1.9 TB, also promises similarly high transfer rates. The manufacturer specifies a maximum performance of 850 MB/s, but we cannot say for sure whether it also comes with a RAID connection or only with a single drive. The standard ASM1352 model used in our test models can only address a SATA III drive, which means a limitation to a theoretical 600 MB/s. Thus a performance gain of about 100 MB/s is still possible in theory when compared to USB 3.0.
The fastest drive does not help if a compatible computer, an up-to-date PC with USB 3.1, is not available. While Apple's MacBook 12 with Type-C connector is still an exception so far and does not support the fast 10 GBit/s mode, the few alternatives come with the well known Type A port. These notebooks with USB 3.1 are already available (our list may not be complete, since new USB 3.1 notebooks can become available every day):
As an alternative, a USB 3.1 interface card can be added to an existing desktop PC. However, the PC should be fairly up-to-date in order to provide the necessary two 2 PCIe 2.0 lanes or a PCIe 3.0 lane. The ASMedia 1142 USB 3.1 chip used in these cards has an important limitation. It can only communicate with a maximum of two PCIe 2.0 lanes, which limits the maximum data transfer rate to exactly 10 Gbit/s, which is the maximum a USB 3.1 port can deliver. Since most cards feature two ports, the bandwidth is not sufficient to be able to supply both. It does not help either that ASRock provides its USB 3.1/A+C card with four PCIe 2.0 lanes in our test model, since the ASM1142 is the limiting factor here, as already mentioned above. We used the following test devices in our review:
ICY BOX IB-AC603-U31 (interface adapter with transparent empty case)
ICY BOX IB-234-U31 (external HDD-/ SSD case)
Sharkoon Quickstore Portable USB 3.1 (external HDD-/ SSD case)
ASRock USB 3.1/ A+C
Belkin USB-A to USB-C (3515DL), 10 Gbit/s
Belkin USB-C to USB Micro-B (3315DL), 10 Gbit/s
Problems
Even if you consider all the pitfalls mentioned so far, a much simpler part can hamper enjoying USB 3.1. Apparently, all three test devices with ASM1352 chip included a USB 3.0 cable. This does not cause problems as long as the communication partner uses an older USB standard, too. However, if you want to connect to the USB 3.1 interface, the drive stops working after a more or less short time and abruptly signs out of the computer. We checked this under Windows 8.1 and Windows 10. While we first considered defective hardware, it turned out that the cable caused the problem. None of the included models was labeled being 10 GBit/s capable. Apparently, they are actually not, since the device stopped working after a short start-up phase. The use of USB 3.1 cables from Belkin, which are explicitly labeled being capable of the fast mode, finally ensured a stable operation without interruptions.
Summary of the problems, which came up during the test:
Different ports with different speeds.
All tested USB 3.1 cases came with standard USB 3.0 cables.
USB 3.1 cables with 10 Gbit/s performance are hardly available so far.
The ASMedia1142 chip, which is used in interface cards, can only address two PCIe 2.0 lanes. Thus, it can only supply one of the two interfaces with maximum performance.
Performance
We will not describe another unexpected problem here but finally turn to the measured maximum transfer rates. As mentioned above, the achievable performance depends on many factors. Since all test models came with the same ASMedia Chip ASM1352 and we could not detect relevant differences in our comparison, we only depict the results of the ICY BOX IB-AC603-U31 adapter here. We tested the following SSDs with AS SSD and CrystalDiskMark:
Crucial m4 (64 GB)
Samsung SSD 830 Series (128 GB)
Samsung SSD 840 Series (250 GB)
We also used an empty USB 3.0 case from CSL and Samsung's external SSD T1 (250 GB) for comparison. As can be seen throughout the measured results, significantly more than 500 MB/s was achieved depending on the benchmark. Throughout, the results are on a level expected for a SATA III interface. Much more is not possible so far, since all currently available chipsets have the already mentioned SATA III limit.
Overall, USB 3.1 brings a measurable performance gain, which is certainly notable when transferring big files. However, only a few users might consider this alone important enough for a migration. Especially for notebooks, this might change quickly as soon as these support currently missing features like power supply or display out. A wider availability of Type C peripherals and better adapted equipment (see cable) will certainly increase the acceptance. What remains is the SATA III limit - especially of external mass storage devices. Although this is already improved by RAID alternatives, the final breakthrough of USB 3.1 certainly requires the M.2 form factor with PCIe interface.
Verdict
USB 3.1 definitely brings many new possibilities. But, there is already an abundance of pitfalls regarding data transfer. It is not difficult to circumvent them, but it requires some background knowledge in order to rate the marketing promises of the companies correctly.
In order to come close to the promised 10 Gbit/s, not only sender and receiver have to support the new USB 3.1 standard, as usual. The interfaces behind them like SATA III or PCIe have to be considered, too, since these still significantly slow down the performance.
Apart from that, you have to be even more careful with the cable than with USB 3.0. The main problem is that empty cases currently still come with standard USB 3.0 cables. If you add compatible cables, the purchase price of our test model doubles and the supposedly cheap migration gets quickly expensive. We will keep a close eye on this topic and will check the status in our notebook reviews from time to time.