A new mid-range Samsung tablet gains Wi-Fi Alliance certification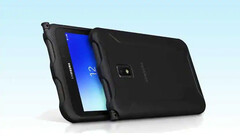 Samsung has sent a new device to the Wi-Fi Alliance for certification. However, this document does not confirm much about this device, save that it is a tablet with the model number SM-T545. The same number has cropped up in a Geekbench leak recently that pegged it as a Snapdragon 710-powered device with 4GB of RAM.
The Samsung SM-T545 has surfaced in a new certification for its Wi-Fi capabilities. However, this document does not confirm many details from prior leaks about a device with the same model number. They indicate that this tablet has a middle-of-the-road Qualcomm Snapdragon processor and 4GB of RAM.
Therefore, tech correspondents and bloggers are still largely operating on speculation on the nature of this upcoming product. This suggests that it is a new Galaxy Tab-series device, which is based on a comparison of its model number with that of the 10.1-inch Tab 4.
Alternatively, it is possible that the SM-T545 will be called the Galaxy Tab Active Pro, a new product name Samsung has recently trademarked. The latest leaks surrounding this possiblity hint at the scope for a rugged chassis that may have a silo for a stylus. It is not yet clear when this putative tablet may be released, although a release event during IFA 2019 is as likely as not at this point.