A 3D-printed head created for news report could fool Android's Face Unlock, but not Apple's Face ID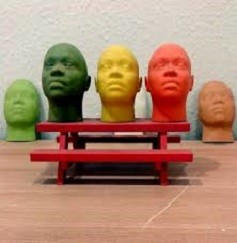 A Forbes reporter had a replica of his own head, made via 3D-printing, commissioned from a company that specializes in the same. He was able to use this object to unlock four Android phones (from different OEMs), but not an iPhone X. This suggests that Face ID remains the more powerful device-security tool.
Can Android's Face Unlock feature be fooled? Well, yes, according to some reports. The latest of these involves claims that an accurate 3D-printed model of a user's head can unlock their phone. This was done by the Forbes cybersecurity correspondent Thomas Brewster, who found a British company who makes just such life-like replicas via 3D printing. This group, Backface, uses a studio in which 50 cameras surround the customer in order to build up the 3D image necessary to make their 'second head' out of powdered gypsum.
Brewster then used the finished product to try and unlock five phones: an LG G7 ThinQ, a Samsung Galaxy S9, a Samsung Galaxy Note 8, a OnePlus 6 and an iPhone X. He reported that all 4 of the Android phones, which were all set to unlock using Face Unlock alone, unlocked when faced with the model head. The iPhone, on the other hand, did not.
The reporter noted that the LG flagship was most resistant to recognizing the fake head as the user, but would unlock under certain lighting and angling conditions. The OnePlus 6 was found to be the least secure in this respect, and was also the only Android device not to bring up warning messages about Face Unlock's potential vulnerability as a biometric security measure during its set-up. However, the OEM's representatives were quick to acknowledge this when contacted for comment, and also asserted that they are "always working" on features such as this.
All in all, this report appears to hammer home the apparent fact that only Apple Face ID is a more viable form of facial recognition in smartphones. As others are mainly based on optical images of the face in question alone, they can be circumvented too easily. Hopefully, Google and OEMs will offer better solutions for this issue in the future.