4 ways you can maximize battery life on your iPad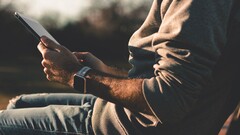 The choices and comments made on this list belong solely to the author.
1. Turn down the lights
If you are not satisfied with the battery life on your iPad, it's likely because you have your screen brightness turned up all the way which can munch through your battery in no time. Visit Settings > Display & Brightness, and toggle Auto-Brightness on to allow iPad to automatically adjust screen brightness based on ambient light levels. This feature will not only help you conserve power, but it will also reduce strain on your eyes.
2. Disable Wi-Fi & Bluetooth
While you are away from home and on the move your iPad will constantly be searching for wireless networks even while it's sitting in your bag. This, along with Bluetooth, can drain your battery throughout the day. Put an end to this madness by disabling both wireless protocols when you do not need them. Swipe down from the upper right corner of the display, then tap the Wi-Fi and Bluetooth icons to disable them.
3. Turn off notifications
Instead of endlessly scrolling through a meaningless list of notifications, or panic-tapping that Do Not Disturb button when you do not want to be bombarded by notifications from apps you hardly use, visit Settings > Notifications. Once you reach this screen simply switch off notifications for apps that you do not wish to be bothered by.
4. Turn off Background App Refresh
Introduced back in 2015, Background App Refresh eats away at your battery by refreshing content from your apps in the background. The idea is that new content will already be ready for you the moment that you launch an app. Navigate to the Settings app and visit General > Background App Refresh to disable this feature for apps that you do not use frequently.
Self-proclaimed coffee connoisseur and tech enthusiast Brahm Shank is captivated by the impact of consumer tech: "It's profoundly moving when people discover that the phone in their pocket or the tiny computer on their wrist has the power to enrich their lives in ways they never imagined." Apple, Inc. and its unique position at the intersection of technology and the creative arts, resonates deeply with Brahm and his passion for helping people unleash their potential using technology. Over the years, Brahm has held various podcasts - including famed technologist David Pogue of The New York Times on topics such as Big Tech and digital wellness.