4 downright weird Apple products that should be forgotten ↺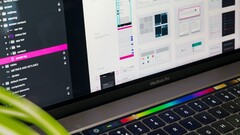 The choices and comments made on this list belong solely to the author.
1. MacBook Pro w/ Touch Bar (2016)
From a faulty Butterfly Keyboard to the lack of fundamental I/O, the 2016 MacBook Pro was regarded by many as a deliberate step backward for one of Apple's most loved products. Its flagship feature, a multitouch strip of OLED controls called the Touch Bar, lacked support for many non-stock apps at launch and has stayed that way several years later.
The Touch Bar replaced the all too useful function row coveted by professionals and creatives alike, which meant it never saw widespread adoption despite its potential. It's now 2022 and about the only thing the Touch Bar is useful for is selecting emojis and making quick edits in the Photos app.
2. Siri Remote (2015)
Debuting alongside the Apple TV HD (4th Generation) back in 2015, the Siri Remote adopted a far too radical approach to minimalism with the introduction of a built-in multitouch trackpad in place of the traditional directional controls found on most modern remotes. Nearly a decade into the multitouch revolution, users had grown accustomed to touch-based tech making multitouch on a TV remote seem like the most logical and intuitive step forward.
However, users found the touchpad to be too sensitive. To make matters worse, the Siri Remote's symmetrical button design also led to unwanted presses, pauses, and Siri activations, while its thin form factor frequently caused users to lose the remote only to find it wedged between couch cushions.
3. iPod shuffle (2009)
When Apple introduced the 3rd Generation iPod shuffle in 2009 it described it as "jaw-droppingly small". Devoid of any dedicated buttons, the device relied entirely on Voice Over technology to operate. Though Apple did pair its own propriety ear buds with media controls alongside this iPod, many users found the 3rd Generation iPod Shuffle tedious to use. Starting at US$59 for a 2 GB configuration and US$79 for a 4GB variation, Apple additionally sold a stainless steel version of the device priced at an an eye-roll inducing US$99.
4. iPod Socks (2004)
Arguably the most hilarious entry on this list is iPod Socks, which Apple introduced in 2004. Priced at US$29 for a 6-pack of multi-colored socks, these protective covers are just as silly as they sound. Steve Jobs humorously called the iPod Socks a "revolutionary new product" when he unveiled them onstage and the only thing more cringe-worthy than Jobs' quip is the actual marketing verbiage that Apple used to describe the product. It said, "Forgive us if we're stating the obvious, but here's how it works: Just slide your iPod into the sock to keep it safe and warm. Slide it out to dock or change playlists. It's as easy as...putting on a pair of socks."