Apple hit with class action suit over faulty butterfly-switch keyboards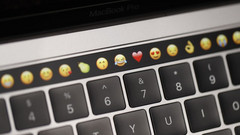 A class action law suit against Apple was filed in the Northern District Court of California by two plaintiffs who have been at the receiving end of the Apple MacBook Pro faulty keyboard fiasco. The suit alleges that Apple intentionally promoted and sold these laptops knowing very well that the keyboards were inherently defective.
Apple has been slapped with a class action lawsuit over failing MacBook Pro keyboards. The lawsuit was filed by two plaintiffs in the Northern District Court of California this Friday. The suit details all the forum complaints regarding the defective butterfly-switch mechanism that Apple had started incorporating in the MacBook and MacBook Pro keyboards since 2015. Most importantly, the plaintiffs allege that Apple "promoted and sold laptops it knew were defective in that they contain a keyboard that is substantially certain to fail prematurely."
Apple advertises the new butterfly-switch mechanism as a 'keyboard refined for an even better hands-on experience'. The butterfly mechanism replaces the older scissor mechanism and helps the company achieve a thinner notebook design at the expense of comfortable key travel. Apple Community forums are chock-full of complaints of keys randomly not registering strokes or wantonly repeating characters. Dust or particulate matter such as bread crumbs can render the key unusable if they somehow enter the narrow space underneath the keys. While Apple's support page says that you can blow the dust off, it cannot be farther from the truth. An investigation by Apple Insider revealed that the 2016 MacBook Pro keyboards were failing at twice the rate of older models. A Change.org petition demanding recall of MacBook Pros with the butterfly-switch keyboards has managed to garner more than 20,000 signatures. Most leading Apple-related publications have been pretty vocal about the issue with John Gruber of the Daring Fireball calling it, "one of the biggest design screwups in Apple history."
Coming to the specifics of this case, plaintiff Zixuan Rao's 15-inch MacBook Pro, which was purchased earlier this year had already developed a defect in which one of the keys started to malfunction. The Apple Store failed to fix his problem and said that his laptop would be sent for repair that would take a week's time. Rao had to decline the fix due to the lengthy repair process. The other plaintiff, Kyle Barbaro, had the space bar and the Caps Lock keys acting up in his 2016 MacBook Pro. While Apple repaired the issue, the space bar had failed again. Since the device was out of warranty, Barbaro was quoted a price north of US$700 for the repair. Both plaintiffs are seeking damages and legal expenditures and also demand that Apple acknowledge and fix issues with the butterfly mechanism. They also ask Apple to replace faulty units and offer reimbursement for replacements.
It remains to be seen how Apple responds to this lawsuit but the company has already patented a new butterfly mechanism that is resistant to 'contaminant ingress'. If you own a MacBook or MacBook Pro bought in or after 2015 and are affected by faulty keyboards, you too can join the class action. We do hope that Apple takes cognizance of this at least now and give what users really care for in a laptop — a fully functioning keyboard.
Working For Notebookcheck
Are you a techie who knows how to write? Then join our Team! Especially English native speakers welcome!
Currently wanted:
News and Editorial Editor - Details here